Published on February 4th, 2013 in: Current Faves, Music, Music Reviews, Reviews |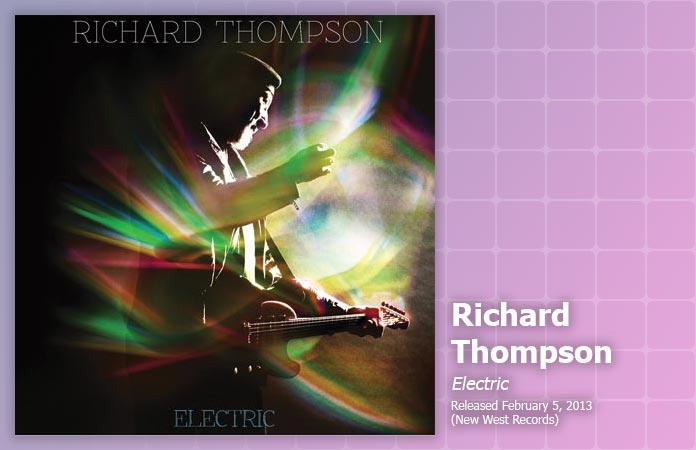 At this point in Richard Thompson's life, his legacy is assured. As one of the members of British folk band Fairport Convention, he played a role in bringing together traditional Celtic music, folk rock, and psychedelia, and his albums with former wife Linda are some of the most melancholic and offhandedly cathartic albums of their time. As a songwriter, Thompson has a mordant wit and a great sense of melancholy. His guitar work brings together several different styles and approaches, but unlike his contemporary Eric Clapton, his real skill is in the notes he doesn't play. In short, one could forgive him for coasting.
To some extent, Electric picks up where Thompson's previous album Dream Attic left off (review). While he doesn't appear to be playing these songs before a live studio audience, this latest album at least sounds as though it was recorded live, with all the members of the band in the same room. While the stripped-down arrangements, with their focus on Thompson's electric guitar solos, find him in his comfort zone, the lyrical content seems a bit angrier and more immediate than much of his previous work.
Even on albums like Shoot Out the Lights, Thompson isn't known as a confessional songwriter. He draws on finely wrought lyrical imagery that draws inspiration from Child ballads, or he couches contemporary satire in bleakly comic metaphors. Even on those tracks that could lend themselves to autobiographical interpretation, the point of inspiration is so grounded in decades of history that they may as well be legend. Some of the songs on Electric are so specific and so quotidian that I had to search and make sure that Thompson hadn't just gone through a Broken Flowers-like midlife crisis.
The serrated, personal-sounding lyrical tone of Electric well complements the music. Legendary Nashville sideman Buddy Miller handles the production responsibilities for this album, and some of his production choices highlight the similarities between the Celtic folk of Thompson's formative years and classic country music. The guitar solos on "Sally B" that weave in and out of one another sound like a time-lapse photo of musical evolution. The propulsive tempos, bristling performances, and lyrical gallows humor should endear this album to fans of contemporary bands like the Black Keys.
Electric doesn't follow the script of a late-career album by a well-respected journeyman musician. There are no special guests and no trendy producers present to spruce up his music, and he continues to evade direct valedictory statements in his music. That he's bringing some new approaches to his considerable musical arsenal, however, shows that he's still relevant and still has new ground to cover.
Electric will be released on February 5 by New West Records and can be purchased from Richard Thompson's website.
Tour Dates:
Feb 20 St. David's Hall in Cardiff, United Kingdom
Feb 21 Symphony Hall in Birmingham, United Kingdom
Feb 22 Brighton Dome in Brighton, United Kingdom
Feb 23 Colston Hall in Bristol, United Kingdom
Feb 24 Corn Exchange in Cambridge, United Kingdom
Feb 25 02 Shepherd's Bush Empire in London, United Kingdom
Feb 26 Barbican in London, United Kingdom
Feb 28 Usher Hall in Edinburgh, United Kingdom
Mar 01 Liverpool Philharmonic Hall in Liverpool, United Kingdom
Mar 02 City Hall in Sheffield, United Kingdom
Mar 03 The Sage Gateshead in Gateshead, United Kingdom
Mar 04 The Irish Centre in Leeds, United Kingdom
Mar 06 Royal Concert Hall in Nottingham, United Kingdom
Mar 07 De La Warr Pavilion in Bexhill-On-Sea, United Kingdom
Mar 08 Anvil Arts in Basingstoke, United Kingdom
Mar 09 St. Albans Arena in St. Albans, United Kingdom
Mar 10 The Lowry in Salford, United Kingdom
Mar 17 Peabody Opera House in St Louis, MO
Mar 19 The Pabst Theatre in Milwaukee, WI
Mar 20 Symphony Center in Chicago, IL
Mar 22 Massey Hall in Toronto, Canada
Mar 23 Orpheum Theatre Boston in Boston, MA
Mar 24 The Paramount in Huntington, NY
Mar 26 Academy of Music in Philadelphia, PA
Mar 27 The Beacon Theatre in New York, NY
Mar 29 Strathmore in North Bethesda, MD
Mar 30 Durham Performing Arts Center in Durham, NC
Apr 01 Belk Theater in Charlotte, NC
Apr 03 Savannah Music Festival in Savannah, GA
Apr 04 Cobb Energy Performing Arts Centre in Atlanta, GA