Published on February 1st, 2013 in: Assemblog, Feminism, Film Festivals, Movies, Science Fiction, Trailers |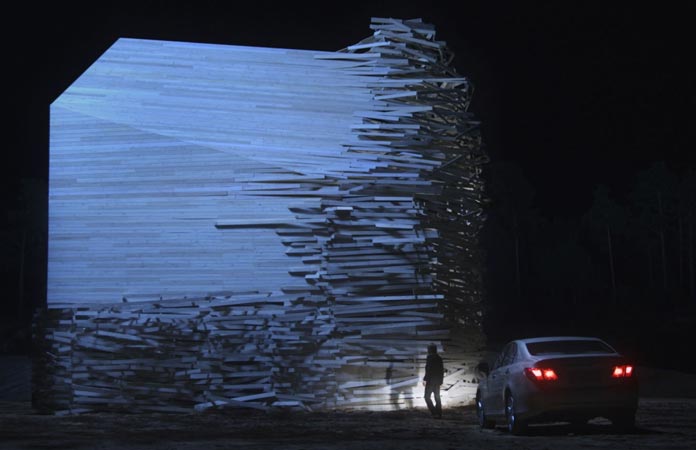 Vanishing Waves
New this week on Popshifter: Paul examines "Wrestling's Dark Heart" and reviews the game Cart Life; Maureen recommends The Sessions as "a gem of a film;" I get excited about new music and videos from Parenthetical Girls, Iceage, and Jesca Hoop and review the excellent but troubling film Compliance; and Elizabeth talks about Netflix, Wall Street, and why televangelism means we can't have nice things like a la carte cable in this week's installment of "TV Is Dead, Long Live TV."
Perhaps you remember the sci-fi/horror film Vanishing Waves from last year's Fantastic Fest. If you weren't lucky enough to see it then, but you live in New York, congratulations! According to Fangoria, Vanishing Waves will be opening at Cinema Village on March 15, "with more cities to follow." I hope one of those cities is Toronto! (Oh, and wherever you live, too.)
A couple of movies that are on my "Top Ten To Watch In 2013" list have updated release dates. For Danny Boyle's Trance, it's good news, as the film will screen in the US on April 5. For Paul Feig's The Heat, it's not bad news, but it is a delay. The opening of the film has been pushed back from April 5 to June 28. It could do really well as a summer comedy, so this might be a good thing. (H/T to /Film for both bits of news.)
The Coen Brothers have a new movie coming out: Inside Llewyn Davis. Now a trailer has been revealed and it's terrific. Even if you don't know what the movie's about already, you should just watch it. Things I love about this trailer: the cat, John Goodman's hairpiece, Carey Mulligan hilarious bitchitude, Oscar Davis's "Howya doin'?", the good editing, the build up and tease at the end. (H/T to Film Junk)
One of the films from Sundance that looked interesting to me was Magic Magic. I've since read a few reviews, including this one from Bloody Disgusting, and now I'm even more interested in seeing this one. Comparing a modern film to Let's Scare Jessica To Death is certain to attract my interest. Here is the official synopsis from the Sundance website:
If Alicia could just get some sleep, everything would be all right. As she and her cousin Sarah make their way through rural Chile with Sarah's boyfriend, his sister, and their strange American friend Brink, Alicia's insomnia slowly takes control. The difference between what is happening in reality and what is happening in her own mind becomes less and less clear to her. After she takes a stab at hypnosis to help solve the problem, things only get worse. As her waking nightmare continues, will her "friends" be her salvation or her downfall?

Writer/director Sebastián Silva crafts an unsettling film that examines sexual repression and the fear of loss. With vivid characters in conflict, evocative landscapes, and Christopher Doyle and Glenn Kaplan's fluid cinematography, Silva shows how the smallest choices we make can have significant and insurmountable consequences. – M. P.
According to this Pajiba article, there are 18 upcoming films by female directors that we should be anticipating. Several of these have already screened at Sundance (Two Mothers, Concussion, The Lifeguard, Touchy Feely, Austenland, In A World, Emanuel and the Truth about Fishes, Afternoon Delight, and Jane Campion's miniseries Top of the Lake) and there are a few I've already heard about (Ginger & Rosa, Carrie, Bling Bling) but these others are new to me:
Serena has a 1930s setting and Jennifer Lawrence.
Jane Got a Gun is a Western with Natalie Portman, Michael Fassbender, and Joel Edgerton.
Night Moves is an ecoterrorist film with Dakota Fanning and Jesse Eisenberg.
Untitled has the insanely appealing cast of Julia Louis-Dreyfus, James Gandolfini, Catherine Keener, and Toni Collette.
Mr. Morgan's Last Love is an "an adaptation of Francoise Dorner's La Douceur Assassine; a widowed professor (Michael Caine) falls for a young French woman (Clémence Poésy)."
Lore is "a story of family, set against the backdrop of the end of WWII."
Lore's press release provides a fairly provocative synopsis (and you can watch the trailer here)
The year is 1945. Left to fend for herself when her SS officer father and mother, a staunch Nazi believer, are interred by the victorious Allies at the end of World War II, Lore, a fourteen-year-old German girl (striking newcomer Saskia Rosendahl), must lead her four siblings on a harrowing journey across a devastated country. When she meets the charismatic and mysterious young refugee Thomas, (Kai Malina, The White Ribbon,) Lore soon finds her world shattered by feelings of hatred and desire as she must put her trust in the very person she was always taught to hate in order to survive.
I sincerely hope this Hollywood Reporter article about "problems" with the sequels to David Fincher's The Girl with the Dragon Tattoo film is just stupid speculation and not based on anything:
The studio has options on [Daniel] Craig for two sequels, but the actor is said to want a pay raise, not a cut, in the wake of Skyfall grossing $1 billion worldwide. If Sony can't bring Craig back to reprise his role as journalist Mikael Blomkvist, the sources say the studio could write the character out of the sequel. (A Craig source says negotiations have yet to commence but the actor wants to return to the role.)
Sigh. I think my tweet about this says it all.
"Let's make the second LOTR movie but remove Gandalf's character b/c McKellen wants a raise." — If Sony was in charge. #MillenniumTrilogy

— Less Lee Moore (@popshifter) January 31, 2013
And finally, this QOTD from FlickFilosopher brings up not only the important question of what makes a film snob, but makes me wonder why we need to delineate between films and movies. Because the first is "art" but the second isn't? Talk about snobbery!
—Less Lee Moore, Managing Editor