Published on January 30th, 2013 in: Current Faves, Feminism, Music, New Single, New Video |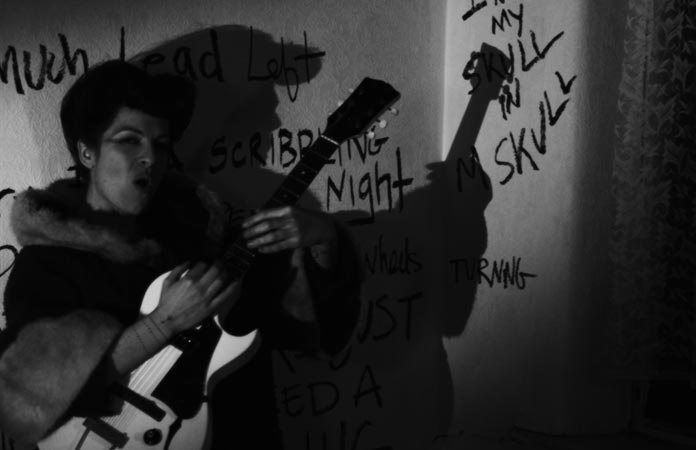 The third single from Jesca Hoop's amazing The House That Jack Built album (review), is out now and there's a video to go with it.
"I've been a fan of Banksy for ages," explains Jesca. "This song is a splatter of inspirations that I have gathered from his pieces round the world. There are four or five specific pieces that inform the lyrics. I named the song 'Ode To Banksy' because, as a huge fan, I much prefer to keep the mystery of his identity alive . . . and while I was writing the song there were big press blasts to reveal his identity . . . which I ignored. I'll keep him masked, thank you! This song is like pop art itself . . . for art's sake. I am also a big a fan of Bobbie Gentry and her song 'Ode to Billy Joe' is a long time favorite of mine . . . the thought of the death of a great intrigue gave me a good excuse to write my own Ode."
"Ode To Banksy"—with its catchy chorus and insistent guitar riffs—is another perfect example of the beautifully diverse talents of Ms. Hoop. If you haven't yet heard The House That Jack Built, I highly recommend it.
Jesca Hoop will be supporting I Am Kloot on their February tour of the UK.
Tour Dates:
Feb. 12 – GLASGOW, Oran Mor
Feb. 13 – LEEDS, Irish Centre
Feb. 14 – MANCHESTER, The Ritz
Feb. 15 – MANCHESTER, The Ritz
Feb. 18 – NOTTINGHAM, Albert Hall
Feb. 19 – LONDON, Barbican
Feb. 21 – BRIGHTON, St Bartholomew's Church
Feb. 22 – CAMBRIDGE, Junction
Feb. 23 – BRISTOL, Trinity
Feb. 24 – COVENTRY, Warwick Arts Centre