Published on January 29th, 2013 in: MP3s, Music, New Music Tuesday, Upcoming Releases |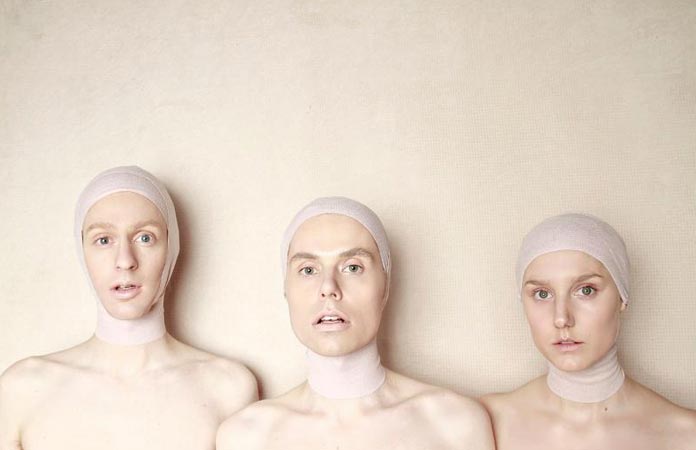 The eclectic, engaging Parenthetical Girls released a series of EPs over the last few years entitled Privilege. These were limited edition and only available via mail order. Oh, and each one was hand-numbered n the blood of one of the band's members.
Now they've condensed the 21 songs that make up the five-part series into 12 tracks, all of which have been remixed and remastered. The Privilege album will be released by Marriage Records and the band's own Slender Means Society Label on February 19.
To support the release, Parenthetical Girls are embarking on a Spring tour, beginning March 6 in San Francisco.
Obviously, none of us have the patience to wait for either of these momentous occasions, so the band has thoughtfully provided a streaming track, "A Note To Self."
Additionally, they'll be producing a series of video commercials for Privilege, beginning with the one below (a clever homage to Brooke Shields's infamous Calvin Klein jeans ads from the 1980s).
For more on Parenthetical Girls, check out their website.
Tour Dates:
03/06 Portland, OR – Holocene
03/07 Berkeley, CA – Starry Plough
03/08 Los Angeles, CA – The Smell
03/09 Phoenix, AZ – Trunk Space
03/10 Albuquerque, NM – Low Spirits
03/12 San Antonio, TX – Korova
03/13 – 03/16 Austin, TX – SXSW
03/17 Dallas, TX – Spillover Music Festival
03/19 Birmingham AL – Bottletree
03/20 Atlanta, GA – The Earl
03/21 Chapel Hill, NC – Local 506
03/22 Washington, DC – TBA
03/23 Philadelphia, PA – PhilaMOCA
03/24 Hamden, CT – Outer Space
03/25 Brooklyn, NY – Glasslands
03/26 NYC – Bowery Electric
03/27 Montreal, QB – Divan Orange
03/28 Toronto, ON – Double Double Land
03/29 Ann Arbor, MI – Arbor Vitae
03/30 Chicago, IL – Empty Bottle
03/31 Minneapolis, MN – TBA
04/02 Denver, CO – Hi Dive
04/03 Salt Lake City, UT – Kilby Court
04/04 Boise, ID – Flying M
04/07 Seattle, WA – Chop Suey