Published on January 23rd, 2013 in: Current Faves, Music, Music Reviews, Retrovirus, Reviews, TV |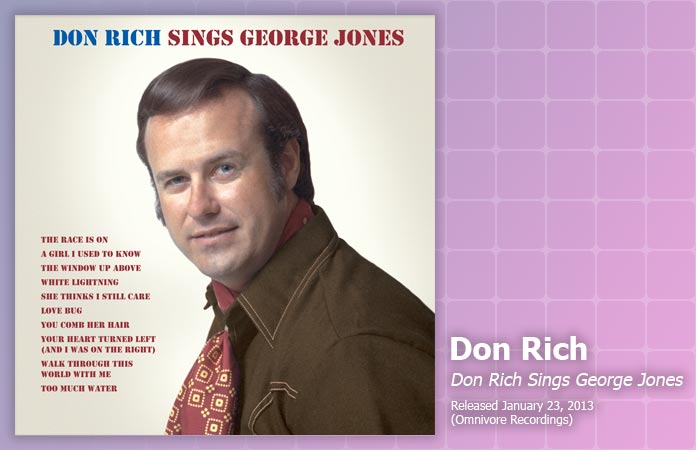 Some people fantasize about going to Shangri-La, some people dream of winning the lottery. Me? I dream of going to Buck Owens's tape vault. Until a couple of years ago, it never crossed my mind, but with 2011's release of Buck Owens's Bound For Bakersfield collection of pre-Capitol demos (review), and now with the dual releases of Don Rich Sings George Jones and Buck Owens's Honky Tonk Man, I want to go there. I cannot get my head around the fact that Don Rich's lone solo record languished in the vault for 40 years. I can't help but wonder what's left in there, and desperately want to find out.
Don Rich was Buck Owens's right hand: his guitarist, fiddler, and the man who brought harmony—a high tenor over Buck's high tenor—to his tracks. They had an uncanny, beautiful way of harmonizing. Don's smiling presence on Hee Haw, just over Buck's shoulder, is my favorite thing about the show. Okay. That sounds a bit like fan fiction. Note to self: Don't look that up. Ever.
Don Rich Sings George Jones is probably going to be my favorite record of 2013. It perfectly covers all my cogent interests: Don Rich (I am seriously fanatical. I schedule my Sundays around watching Hee Haw reruns, and Don Rich makes me grin every time), George Jones, and music from the Buckaroos. The song list is a trip through George Jones's finest, including "The Race Is On," "White Lightning," "She Thinks I Still Care," and "Walk Through This World With Me." The fact that he doesn't ape Jones's distinctive singing style, while he very easily could have is important. These are Don Rich songs. They are great.
His voice is plaintive and perfectly suited for the slower songs, like "Walk Through This World With Me" and "The Window Up Above." However, my favorites on this record are the up-tempo tunes, most notably "Your Heart Turned Left (And I Turned Right)" and the bubbly "Love Bug," as well as a quite rocking take on "White Lightning." Don Rich sounds like the most fun man in the world on these faster numbers. There's an excellent mix of songs chosen here, and his backing band, the always-amazing Buckaroos, are impeccable.
There are four bonus tracks included here of Buck Owens tackling his own versions of George Jones chestnuts (seriously, what is IN that vault?). It's an interesting contrast, listening to Buck's versions of "The Race Is On" and "Too Much Water" in short order after hearing Don Rich's takes. Buck has such a distinctive musical voice, one of the best in old school country. He makes it all seem so easy, like any great vocalist does, and considering these are just guide vocals for Hee Haw makes it all the more amazing.
I don't know that adding these Buck Owens tracks was really necessary to punch up this disc. Don Rich's versions of these songs are quite brilliant and an amazing record of a supremely talented musician. I would have bought it without the Buck Owens, but I'm just that kind of girl. The record is a delight and Don Rich is sorely missed.
Don Rich Sings George Jones is out today via Omnivore Recordings and is available via their website.