Published on January 23rd, 2013 in: Current Faves, Music, Music Reviews, Retrovirus, Reviews, TV |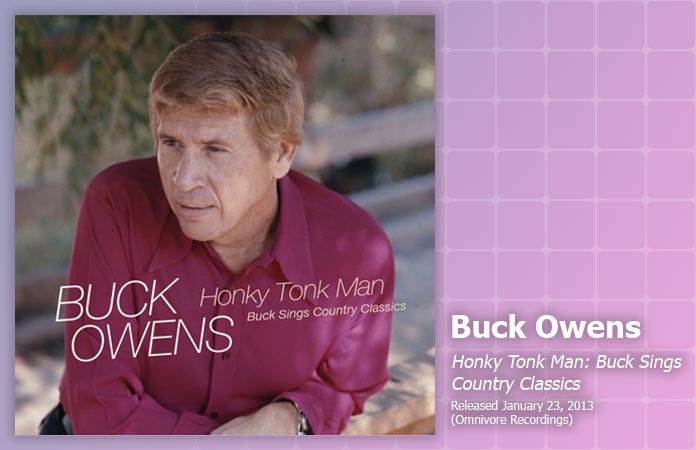 Another gem appears from the Buck Owens vault. Honky Tonk Man: Buck Sings Country Classics is a collection of musical backing tracks from Hee Haw with Buck's reference vocals over them, which sounds like it wouldn't be a treasure at all. But let me back up a moment.
On Hee Haw, Buck Owens's band The Buckaroos were responsible for a great deal of music, and while they had a large amount of hits of their own, they couldn't possibly fill all of the segments they were allotted with just Buck Owens music. This means that Buck got the chance to perform some of his greatest influences' hits, as well as popular contemporary country songs. The vocals on Hee Haw were recorded live, but the musicians prerecorded their bits, in case they made a mistake and taping would have to be halted. To facilitate this, Buck Owens went into the studio to record reference vocals for these tracks, so that the Buckaroos could record their parts, and it would be easier to mix the songs with vocals. Any other singer might have given it less than their best shot: singing quietly, getting the words wrong, and making it unreleasable and unremarkable. Buck Owens, however, was not that kind of man. He was not one to give less than his best in the studio. These vocals are perfect. Or as close to it as you could get.
This is the most fun collection of Buck Owens songs I can think of. There's nothing maudlin here, just crowd pleasing classics. And Buck sounds like he is having a fantastic time.
The album starts strong with a cover of Johnny Horton's "Honky Tonk Man" and just gets better from there. Waylon Jennings's "Only Daddy That'll Walk That Line" flat out rocks, as does Faron Young's "Live Fast, Love Hard, Die Young." Hank Williams songs pop up several times, as Williams was a huge influence on Buck Owens. Their take on "Hey Good Lookin'" is a real treat, and "My Bucket's Got a Hole In It" features Buck's singular pronunciation of the word "bucket," which is always a good time. Stonewall Jackson's "I Washed My Hands In The Muddy Water" is replete with great steel guitar work.
The Buckaroos are in fine form, as they always are. Once again I posit, there just wasn't a better band than the Buckaroos at the time (and possibly still). They were all such crackerjack musicians. Don Rich's fiddle playing on "Waterloo" and "I'm Moving On" is a glorious thing, soaring and quick. His high harmonies with Owens, as always, are a highlight. The guitar solo on Jack Guthrie's "Oklahoma Hills" flows and spills into the verses, never overpowering but enhancing.
This collection also enlightened me as to why I thought that "In The Jailhouse Now" and "Rednecks, White Socks And Blue Ribbon Beer" were Buck Owens songs when I was a wee lass. I had seen them performed on Hee Haw and could only assume that Buck Owens performed every song on the radio.
Honky Tonk Man: Buck Sings Country Classics is out today via Omnivore Recordings and is available to order from the label's website.