Published on January 22nd, 2013 in: Current Faves, Music, Music Reviews, New Music Tuesday, Reviews |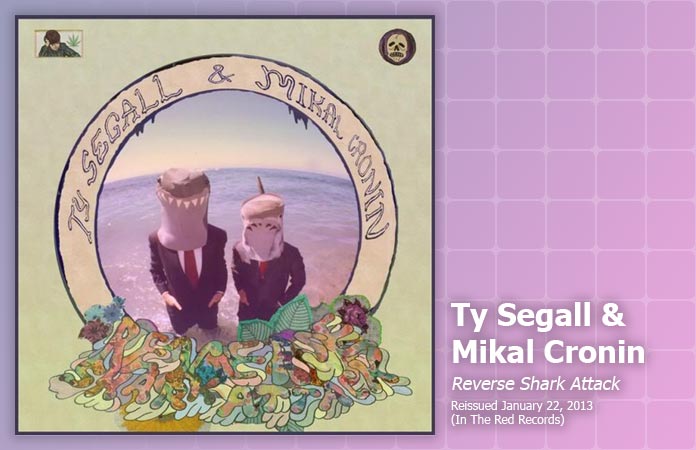 The second of two Ty Segall reissues, Reverse Shark Attack features Segall and his current touring bassist Mikal Cronin (who has quite a few releases with and apart from Segall). While just as dirty sounding as The Traditional Fools (review), these tunes are less garage rock and way more psychedelic, with brain-asplodin' feedback that seems to lurch forth physically from the speakers.
It's patently obvious that I'm going to be biased towards a song called "I Wear Black," but it also happens to be good, snatching the heavy beat from "Wild Thing" and inserting a growling chorus of the song's title.
Right away, these songs—originally recorded in 2009—have a completely different feel from other Ty Segall stuff. This is due in part to the shared vocal duties of Segall and Cronin (who has a deeper register). They're not as immediately accessible as ones on the Traditional Fools release, but that could just be that I don't like Cronin's voice as much as I like Segall's.
On the other hand, "High School" is terrific, and the switching off of melodies and harmonies works wonderfully. "Ramona" is also quite good. As befitting the psychedelic vibes throughout, there's even a sweet cover of Pink Floyd's "Take Up Thy Stethoscope and Walk."
It might seem surprising that a duo whose songs average two minutes in length would be capable of sustaining a ten-minute opus, but they do just that in the album's final title track. "Reverse Shark Attack" is excellent, especially when it fades down to semi-acoustic, then slowly builds back up into quasi-rock opera territory before exploding into massive feedback. Then it turns into something like a reprise of itself, one that sounds like Dick Dale's "Miserlou" with whiffs of Love's "Alone Again, Or." The two core melodies are by far the best on the entire album and make me wish the whole thing sounded like this. I'd sincerely love to hear four or five epic jams with these two dudes. So Ty Segall and Mikal Cronin, if you're not too busy, can you make that happen? Thanks in advance.
Reverse Shark Attack was reissued by In The Red Records today and is available to order from the label's website.