Published on January 22nd, 2013 in: Current Faves, Music, Music Reviews, New Music Tuesday, Reviews |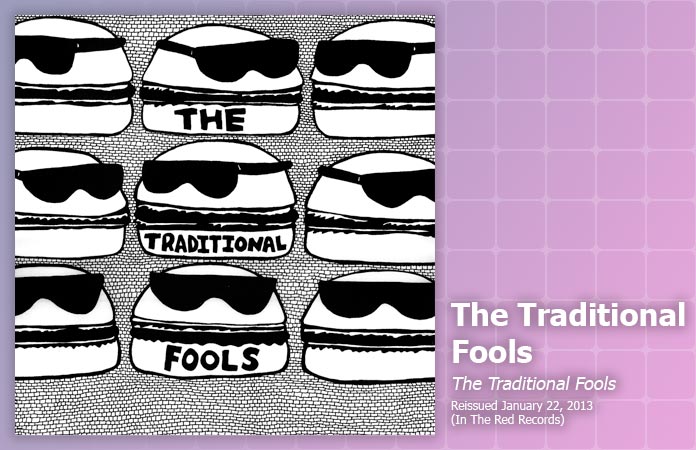 The prolific and talented Ty Segall has another album out today. It's actually a reissue, but one that was previously only available on vinyl and has been out of print since its release. The Traditional Fools—comprised of Segall, Andrew Luttrell, and David Fox—put out only one album, but it's killer. Its intensely dirty sound is more akin to Segall's Slaughterhouse than Twins, but it is instantly loveable. It helps that despite the lo-fi recording, these guys were tight as hell.
The opening track, a cover of "Davey Crockett" by beloved legends Thee Headcoats, will either thrill or piss off fans of the original, but it's obviously coming from a place of respect. It also sounds fantastic.
At times, and maybe it's just the production values, the album recalls the Oblivians, but whereas those guys were mired in the Memphis punk and garage rock scene, Traditional Fools have a more light-hearted, sun-drenched vibe befitting their southern California origins. "Layback!!!" and the instrumental "Shredstick" are almost blatantly surf rock, which is not something I expected, but which I unabashedly adore.
The cover of Redd Kross's "Kill Someone You Hate" is perfect, and perfectly suited to the album's So Cal punk vibe. Despite the fact that Segall was barely 21 when this album was initially recorded and released in 2008, he was still older than the McDonald brothers when they wrote the song in 1982. I only mention this because it blows my mind a more than a little bit and because it shows these guys obviously have impeccable taste.
"T.L. Defender" is another stupidly catchy song whose hooks are obvious to anyone with ears. In songs like "Please" (with its incredible bass riffs courtesy of Luttrell), "Get Off My Back," and "Valley (Of The Jams)," you can hear signposts of where Segall was headed and where he is today. The song craft pierces through all the distortion.
This album is crucial for garage rock fans and Ty Segall fanatics. There is just no way to NOT enjoy it.
The Traditional Fools was reissued by In The Red records today and is available to order from the label's website.