Published on January 22nd, 2013 in: Current Faves, Feminism, Music, Music Reviews, Reviews |
By Cait Brennan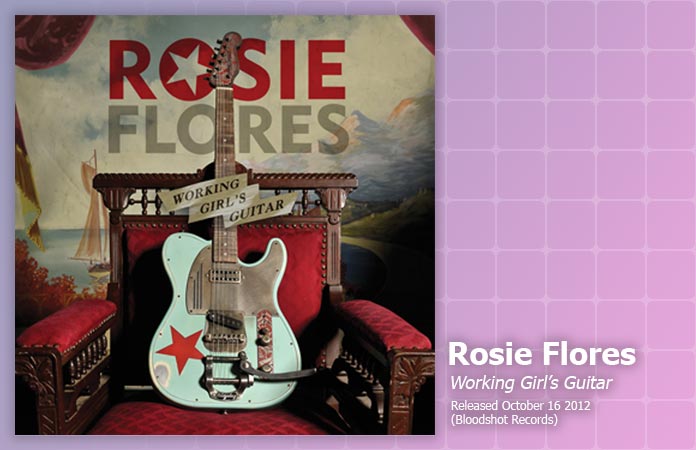 Rosie Flores is one of a kind. Fiercely independent, passionate, and soulful, Flores is a top-tier guitar virtuoso whose always-interesting work bridges blues and country; rockabilly and surf; and Southern California cowpunk and Tex-Mex to create her own strikingly original sound.
In the mid-'80s she fronted a great full-on Hollywood all-girl cowpunk outfit called the Screamin' Sirens, but as fun as it was, it barely hinted at what was ahead. In 1987 Warner/Reprise released her solo debut, Rosie Flores, a pitch-perfect set produced by Dwight Yoakam's producer and guitarist Pete Anderson. It was a brilliant pairing, and the record received near-universal praise from critics.
But despite the label's effort to angle Flores as the female Yoakam, she was impossible to pigeonhole, and the following year she hightailed it to Austin, where she formed a new band featuring fellow luminaries like Junior Brown on pedal steel. Austin and Flores were nigh made for each other, and 1995's Rockabilly Filly cemented Flores's place in the firmament with a mighty collection of tunes featuring giants like Wanda Jackson and Janis Martin (the "Female Elvis," whose work Flores has championed on many occasions.)
Flores is one of the finest guitarists alive, with nitro-fueled guitar solos that evince an expressiveness and fire that few of her contemporaries can match. Her custom "SteeltopCaster" guitar rings out like lightning on her new album Working Girl's Guitar, a blazing set of rockabilly, rock, and blues classics interspersed with some fine new originals.
The title track rocks and rumbles down the tracks like a freight train, telling the first-person tale of "a working girl's guitar, I've been smashed and I've got scars." Flores's rhythm section is tremendous; Twin Cities legend Noah Levy (Brian Setzer, the BoDeans, Mason Jennings, the Honeydogs) is in command of the drums, complemented by bass virtuoso Tommy Vee (also a Setzer vet, and the bass player for—and son of—'60s pop idol Bobby Vee.)
"Yeah, Yeah" is a lovely ballad of longing and loss. "What I wouldn't give to have one more minute with you," Flores sings, her honey-sweet voice pleading for a second chance. "Little But I'm Loud" is a perfect mission statement: "I'm little but I'm loud, dangerous and proud, and I don't really care if people stop and stare," she struts over a Motown-soaked beat and gutsy guitar chops, even slipping in a little Nigel Tufnel for good measure: "If I want it to, it goes to eleven," she sings, and as she blazes through solo after tasty solo, you'd better believe it.
Flores whips up an enticing brew on a great cover of the wonderful rockabilly pioneer Janis Martin's "Drug Store Rock And Roll," with Flores's hot licks complemented by Greg Leisz's steel guitar. Red Young gives a clinic on how to play the Hammond B3, adding that instrument's inimitable lush, sexy tones to the mix.
"Surf Demon #5" does exactly what it says on the tin, asserting Flores's California surf-rock bona fides with a muscular 1950s rockabilly beat and her wailing vocals calling out rockin' touchstones that will get the retro kids moving in no time flat.
One of the nicest moments is the rueful shuffle ballad "Love Must Have Passed Me By," featuring tender, heartfelt harmonies from Bobby Vee himself. "Didn't find true tenderness, golden ring nor wedded bliss, 'cause love must have passed me by," she sings. Flores's tremulous, tender guitar work conjures up a dream of love forever just out of reach.
The proceedings rock out in a big way with a cover of the Elvis standard "Too Much," with Flores's vocals and guitar giving both The King and his longtime guitar ace Scotty Moore a run for their money. Flores takes on another Texas legend, Miss Lavelle's "If (I Could Be With You)," a huge old-school blues belter that will leave most contemporary neo-soul pretenders crying in their PBR. No worries, they'll never taste the difference.
The set ends with a unique, jazzy take on George Harrison's "While My Guitar Gently Weeps." No rock and roll bombast, no distortion, just Flores's earnest, lovely voice and those dynamite hands proving she's just as much a virtuoso on an acoustic as she is on a cranked-up Tele. It's a rare artist indeed that can make a well-worn Beatles classic her own, but Flores makes it look easy. Working Girl's Guitar is a strong addition to her stellar catalog, and shows Rosie Flores is just getting better with time.
Working Girl's Guitar was released on October 16, 2012 on Bloodshot Records and is available to order from the label's website.