Published on January 22nd, 2013 in: Blu-Ray, Canadian Content, DVD/Blu-Ray Reviews, Movie Reviews, Movies, Music, Reviews |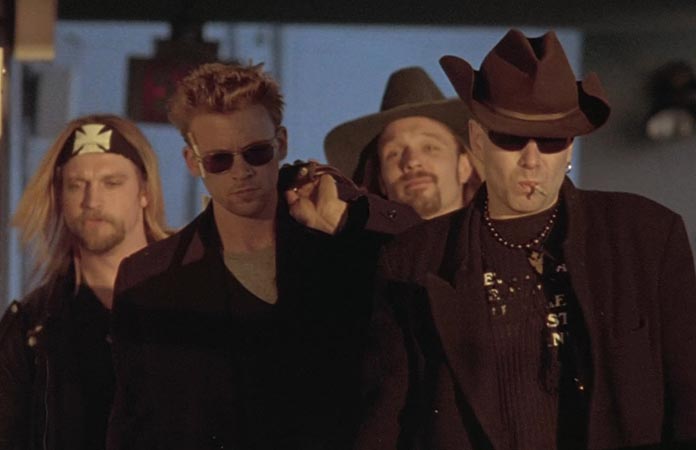 There are few movies I love more than Bruce McDonald's 1996 Hard Core Logo. It's a rock mockumentary about an obscure Canadian punk band who reunite for one last tour, hoping to recapture what fleeting fame they once had. When it came out in the States, it was advertised as a movie in the vein of This Is Spinal Tap. While it is occasionally hilarious, it has a dark, seamy underbelly. It's not a feel good movie.
Hard Core Logo's two stars, Hugh Dillon and Callum Keith Rennie, share an electric chemistry. Their scenes together don't feel like acting. Dillon hadn't acted a great deal before Hard Core Logo, and what he doesn't have in technical "acting" skill, he makes up for in sheer magnetism. His character, Joe Dick, is by turns funny, malevolent, pathetic, and always fascinating. He is a mostly charming manipulator.
One of the finest actors around, Callum Keith Rennie is his icy cool counterpart. Rennie's Billy Tallent is a gifted guitar player, just about to break through with another band after years of paying his dues slogging with bands like HCL. He reluctantly rejoins his comrades for a last tour, with an eye to the end, where he'll join with indie sweethearts Jenifur.
Joe Dick brings his band back together under false pretenses, claiming that punk icon Bucky Haight (the magnificent, reptilian Julian Richings) had been shot. After a somewhat rousing success at the benefit show Joe stages for Bucky, the band embarks on a final tour. A lack of money, a crappy van, and two enormous egos make this venture fraught with troubles. Their bass player (John Pyper-Ferguson, a revelation) becomes unhinged and falls apart mentally. Drummer Pipe Fitter (Bernie Coulson) just wants one last gasp before settling down into whatever crappy job he'll end up with, but his bandmates all have their own agendas.
As the tour falls apart, they find themselves at the mysteriously alive Bucky Haight's prairie home. Hallucinogenics are consumed and truths are told in a stunning montage that feels more like taking drugs than actually taking drugs (allegedly). Billy gets the call he's been waiting for, the great gig in L.A. with a band that's actually making money, and Hard Core Logo plays their last show. It ends in a brawl between Joe and Billy, and John the bass player having a memorable freakout in a Pagliacci costume, while Pipe impotently pounds his drums. What follows is a scene that still surprises me every time I see it. It's a hell of a way to end a movie.
Hard Core Logo 2 isn't a sequel, director Bruce McDonald says. He says it's a B-side to Hard Core Logo's A-side. That's a pretty apt description, because it's not nearly as good as the original. In Hard Core Logo 2, McDonald makes himself a central character, a conceit that had been planned for the original, according to screenwriter Noel S. Baker's account in Hard Core Roadshow. This filmic Bruce McDonald is a successful director, directing a show called The Pilgrim for a religious TV channel. The gig falls apart when his leading man becomes embroiled in a sex scandal. Meanwhile, McDonald learns that the lead singer of Canadian rock band Die Mannequin, Care Failure, has claimed to be possessed by the spirit of Joe Dick. It seems to be the perfect time to go make a documentary about her.
With friend Liz in tow (because she owns her own camera equipment) they meet with the band. Care Failure has a languorous presence, but she's only interesting when performing. Again, like Hugh Dillon, Failure hasn't acted much, if at all, but Dillon has a presence that Failure can't reach. She's a blank-faced cypher with an inability to close her mouth fully.
It's hard to care what happens to these characters, even the affable Bruce. They aren't fully drawn, and it appears that most of the actors aren't actually actors in the film. When Julian Richings (Bucky Haight) shows up, the movie comes alive. Bucky, still calling Bruce "Bryce," is producing Die Mannequin's album. His presence is a welcome relief.
Bruce McDonald can be a brilliant director. Pontypool, his take on the zombie genre, was clever and thought provoking. Hard Core Logo 2 feels self indulgent, relying on repetitive shots, camera trickery, and graphics to compensate for the lack of plot momentum. The ending, however, is strangely sweet.
Hard Core Logo and Hard Core Logo 2 come in the All Access Edition on Blu-Ray, packaged in a metal tin. Hard Core Logo has been restored and packaged with the same extras that came with the DVD edition from years ago. Audio commentary with Bruce McDonald, Noel Baker, and Hugh Dillon is included and illuminating. The video for "Who The Hell Do You Think You Are" from footage cut from the movie is great; it's an homage to the Beatles in A Hard Day's Night. Hard Core Logo 2 also features McDonald's commentary and additional featurettes, which I did not watch all of because I didn't much like the movie.
Hard Core Logo: All Access Edition was released on November 20, 2012 by Video Services Corp. and is available to purchase from See Of Sound.