Published on January 16th, 2013 in: Film Festivals, Listicles, Movies, Top Ten Lists, Upcoming Events |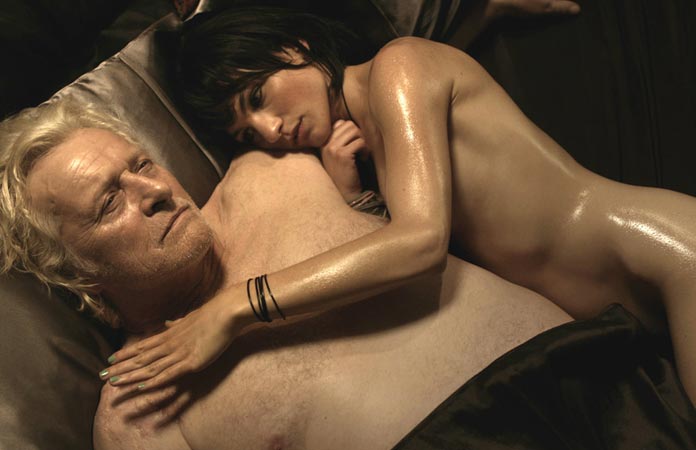 Il Futuro
It was nearly impossible to narrow down the films at this year's Sundance into a Top 20, much less a Top Ten. I tried to pick my top choice from each category to give the best indication of the diversity of films screening at this year's festival.
1. Shorts Competition: The Capsule
Information on this film is scarce, but Sundance's website description, taken directly from the film's website, is captivating: "Seven young women. A mansion perched on a Cycladic rock. A series of lessons on discipline, desire, discovery, and disappearance. A melancholy, inescapable cycle on the brink of womanhood—infinitely." The Capsule is a French production with a Greek cast from director Athina Rachel Tsangari, who produced both Alps (2010) and Dogtooth (2009). Read more …
2. US Documentary: After Tiller
Since the assassination of Dr. George Tiller in Kansas in 2009, only four doctors in the United States continue to perform third-trimester abortions. Regardless of how you feel about the issue, this documentary is sure to be an compelling examination of the real life choices both women and physicians make. Read more …
3. World Documentary: Pussy Riot—A Punk Prayer
Pussy Riot is a feminist guerilla, punk-rock collective from Russia. Two members of the group have been tried, convicted, and sent to a gulag for performing a song critical of President Vladimir Putin. (A third member of the band appealed her conviction and received a suspended sentence.) This should be enough to outrage you and pique your interest. If not, consider that director Mike Lerner has a lot of documentaries to his name, 25 years worth, to be specific. Read more …
4. Doc Premieres: Anita
To quote Sonic Youth in the song "Youth Against Fascism," I believe Anita Hill. This documentary is a long time coming. It's doubtful that those who don't believe Ms. Hill will approach this film with an open mind, but I hope they do. Director Freida Mock has a long history of producer and director credits on her resume and won an Academy Award in 1995 for her doc Maya Lin: A Strong Vision, a profile of the Vietnam Veterans Memorial designer. Read more …
5. World Dramatic: Il Futuro
This film is too high concept to summarize in a couple of sentences, but it's definitely intriguing, especially when Rutger Hauer is playing an "enigmatic blind hermit" who is also an "aging B-movie star and former Mr. Universe." Read more …
6. New Frontier: Interior. Leather Bar.
I've talked about this film a couple of times on Popshifter already. I'd likely already be interested in it, but the involvement of James Franco pushes it into must-see territory. It's a reimagining of the 40 minutes of William Friedkin's 1980 film Cruising that were cut from the final version and never screened publicly. In Cruising, Pacino portrayed an undercover cop investigating a murder in the gay leather bar scene. Read more …
7. NEXT: It Felt Like Love
Coming of age films, when they avoid being too cloying and clichéd, hold a special appeal for me. In this, the first feature from writer/director Eliza Hittman, 14-year-old Lila is the third wheel to her friend Chiara and her boyfriend Patrick. To compete, she pursues an older boy named Sammy. The story is told from Lila's perspective and the performance of lead actress Gina Piersanti is described as "perfectly modulated." Without knowing much about any of the cast and crew, my desire to see this is based solely on the description of the plot and the film's potential to subvert and embrace genre conventions. Read more …
8. Midnight: In Fear
This is the first feature from writer/director Jeremy Lovering and the description of the plot is fascinating: "A young couple fights to survive one night-turned-nightmare. Driving to a music festival, Tom and Lucy have plans to stay at a countryside hotel. But with hotel signs leading them in circles and darkness falling, they soon become lost in a maze of country roads . . . and the target of an unknown tormentor." In Fear is also described as "transcending" its genre, which is my favorite kind of horror thriller. DP David Katznelson has worked on Downton Abbey and lead actress Alice Englert is the daughter of acclaimed director Jane Campion. Read more …
9. Premieres: A.C.O.D.
The acronym in the film's title stands for "Adult Child of Divorce," in this case, Carter, who decides to negotiate a truce between his "acrimoniously divorced" parents in the wake of his younger brother's recent engagement. The plot is remarkably similar to the "Ben's Parents" episode of Parks & Recreation AND this movie includes not only that show's Adam Scott and Amy Poehler, it also features Richard Jenkins, Jane Lynch, Catherine O'Hara, and Mary Elizabeth Winstead. It has to be funny and touching, right? That's what I'm thinking, too, especially when one of the screenwriters (Ben Karlin) has also written for The Daily Show and The Colbert Report. Read more …
10. US Dramatic: Afternoon Delight
"Plagued by purposelessness, Rachel visits a strip club to spice up her marriage and ends up meeting McKenna, a stripper whom she becomes obsessed with saving." The rest of the film's description is a bit too contrived for me, but the core of the plot, not to mention the cast (Kathryn Hahn, Juno Temple, Jane Lynch) pushes the right buttons. Writer/director Jill Soloway has also written for Six Feet Under and The United States of Tara, but this is her narrative feature debut. Bonus: The score is by Craig Wedren. Read more …
The 2013 Sundance Film Festival runs from January 17 – 27 in Park City, Utah.