Published on January 11th, 2013 in: Cartoons, Comedy, Horror, TV, TV Is Dead Long Live TV |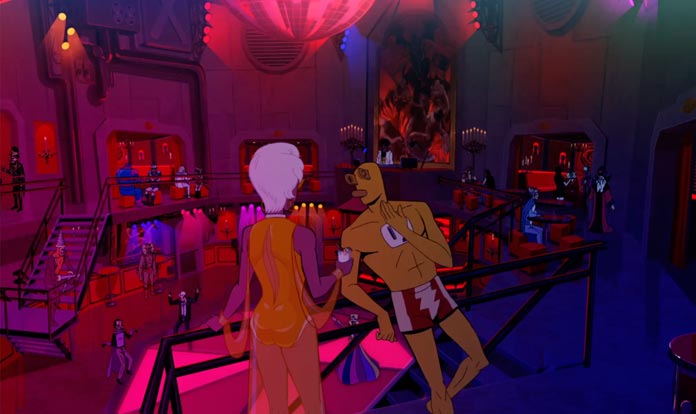 The Venture Bros., image courtesy of Jackson Publick
So much good television is on offer for 2013. Given that I didn't write an arbitrary best-of list for 2012, I thought I'd start out this year with an arbitrary list of things I'm really looking forward to watching in the next year. In no particular order, here are five things to get excited about for 2013 on your screen, be it television or computer or tablet.
1. Hemlock Grove. While the trailer is a little cheesy, the cast and concept are sound. Masks, hidden things, and danger lurking underneath ordinary faces? I'm in. I've also been waiting to see Aaron Douglas again since his role on Battlestar Galactica ended. No one can play crazy waiting to burst through a placid exterior like Aaron Douglas. I keep waiting for the role that will let him rip someone's head off. I hope this show gathers loads of momentum from Netflix watchers, but I'm worried that actual ratings (measured by clicks and views on Netflix) will look small when compared to the made-up Nielsen ratings we're used to as a metric. Here's hoping Hemlock Grove delivers the horror and fandom goods and thrives as a show independent of any network.
2. The Venture Bros., Season 5. Cartoon Network aired the season four finale of this series on November 21 of 2010, meaning there's been more than a two-year gap in storytelling for The Venture Bros. We did get a short special each year the show has been gone, but that only makes me hungry for more of one of the best animated series ever made. While the craftsmanship of Doc Hammer and Jackson Publick means that every episode is layered with meaning and tight plotting, I sometimes find myself wishing they were more prolific. Still, I am as excited as can be to check back in on the guys, and crossing my fingers that we see Triana Orpheus again. So far only a few images of Season 5 have been released, and it's unlcear if the show will be back in March or May.
3. Game of Thrones, Season 3. HBO cordially invites you to the Red Wedding. My husband and I sing this version of the Game of Thrones theme song and laugh our asses off before we watch each new episode. A Storm of Swords, the book on which Seasons 3 and 4 of this series will be based, is regarded by many fans as the best of the Game of Thrones books. For those who haven't read or listened to the story in advance of watching the television version, I can assure you that good times are ahead for all fans.
4. The Comic Book Girl 19 Show! This is my favorite of all YouTube review shows, featuring Comic Book Girl 19 breaking down movies, comics, and fandom TV in style. Her dissection and explanation of the mess that was Prometheus is very much worth your time. I check in with her channel from time to time to watch what I consider to be the most entertaining fandom critique show out there right now.
5. Mockingbird Lane. The best pilot of 2012 is back as a regular series, and we're all going to be treated to weekly installments of Portia de Rossi being brilliant and Eddie Izzard archly chewing scenery in this modern campy comedy. Just kidding, NBC killed it off. You can still watch the pilot on Hulu whenever you're in the mood for some silly fun.