Published on January 11th, 2013 in: Assemblog, Comics, Horror, Movies, Science Fiction, Trailers, TV |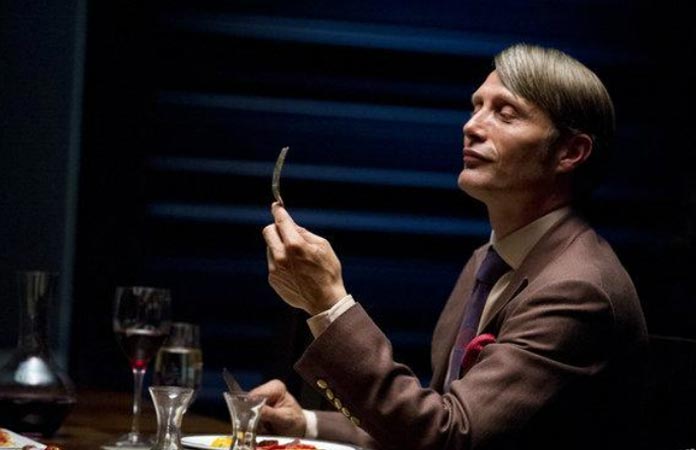 Mads Mikkelsen in NBC's Hannibal
New this week on Popshifter:
Chelsea profiles Boston band The Grownup Noise; Danny reveals his choice for best turntable; Lisa picks 13 genre films to see this year; Paul tackles wrasslin' and the potential of a new Prince album in 2013; Cait shares the good news about the upcoming David Bowie album; Julie likes the new Crime & the City Solution compilation A History of Crime; Brad has good things to say about the Blu-Ray for Sleep Tight; Elizabeth is back with a new installment of "TV Is Dead, Long Live TV" with her picks for this new year; I recommend Lost Girl for fans of good television; and give some background on the 2013 Sundance Film Festival, which starts January 17.
The only concession I will make to the 2013 Oscars is that they exist. It's become a ridiculous wankfest and one to which I do not wish to contribute. So I guess you could say that my Oscar snub is to snub the Oscars. Ha!
The most exciting film news this week has been the announcement by The Hollywood Reporter that Christopher Nolan's next film project has been announced. Interstellar, with a script penned by Jonathan Nolan, was originally going to be directed by Steven Spielberg but now Nolan will be directing and producing. If you liked the sci fi undertones of The Prestige and Inception, you're going to love this:
The story involves time travel and alternate dimensions and sees a group of explorers travel through a wormhole. The script is based on scientific theories developed by Kip Thorne, a theoretical physicist, gravitational physicist, and astrophysicist at Caltech.
Looking at Kip Thorne on Wikipedia reveals that he's pals with Carl Sagan and Stephen Hawking and "one of the world's leading experts on the astrophysical implications of Einstein's general theory of relativity." I'm thinking about how great Danny Boyle's Sunshine was due to the involvement of physicist Brian Cox and I'm thrilled that such a hard science fiction film is going to be in the hands of Christopher Nolan. I await the inevitable backlash and plothole accusations with glee!
/Film, by way of The Film Stage, has revealed some of the concept art for the upcoming Snowpiercer, to be released sometime this summer. It's based on a French graphic novel and will be directed by Bong Joon-ho, who also gifted us with the exquisite film The Host. Here's the synopsis:
Snowpiercer is set in a future where, after a failed experiment to stop global warming, an Ice Age kills off all life on the planet except for the inhabitants of the Snowpiercer, a train that travels around the globe and is powered by a sacred perpetual-motion engine. A class system evolves on the train but a revolution brews.
The cast is also impressive, including Kang-ho Song (also from The Host), Tilda Swinton, Chris Evans, Ed Harris, Octavia Spencer and others. I will post a trailer as soon as one is available.
Last week I discussed the upcoming art heist and hypnotism thriller Trance, directed by Danny Boyle, and starring James McAvoy, Vincent Cassel, and Rosario Dawson. Here's the excellent trailer, courtesy of /Film.
It looks visually exciting and suspenseful and I can't wait until it hits North America. The UK premiere is March 27.
I recently watched Super 8 and while the movie was outstanding, I was terrifically impressed with the performance of Dakota Fanning. She stars in the soon-to-be-released Ginger & Rosa, which premiered at TIFF last year, but is slated for limited release on March 15. This a fine-tuned coming of age film is set during the time of the Cuban Missile Crisis. (H/T to /Film.)
In September, I expressed my delight that NBC's Hannibal TV series would include both Mads Mikkelsen and Scott Thompson. In the interim, Gillian Anderson has also been announced as a cast member. Bloody Disgusting has some chilling promo photos for the upcoming 13-episode series. Although a premiere date hasn't been announced, the series is being shot in Toronto (so if I see Mads around town, I'll give him your regards).
This article from the L.A. Times Movies Now blog on The Impossible captured my interest. I've spoken previously about my ambivalence towards this movie, but it doesn't make the analysis of its poor American box office numbers any less astute. One thing I did find interesting was that last year's French drama Intouchables grossed $400 million worldwide, which is almost as much as The Dark Knight Rises. For more on The Impossible, read this excellent review by Shannon at Film Junk.
—Less Lee Moore, Managing Editor