Published on January 10th, 2013 in: Blu-Ray, Current Faves, DVD/Blu-Ray Reviews, Horror, Movie Reviews, Movies, Reviews |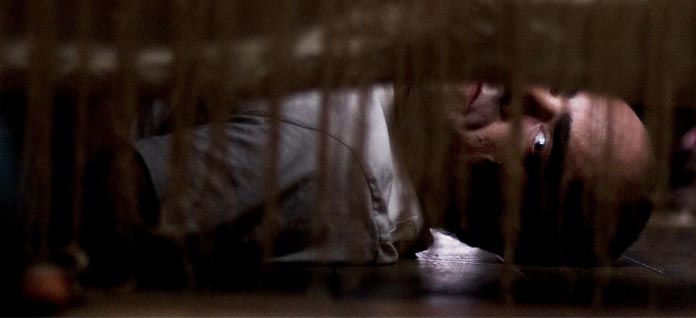 Jaume Balagueró has given us many great films both in his solo career and with his partner in crime, Paco Plaza. They are the ones responsible for the [REC] series and many other horror favorites. Balaguero's solo films include Fragile, Darkness, The Nameless, and To Let. Now we have Sleep Tight, which is probably his greatest accomplishment to date. Balagueró is a director to keep an eye on.
Sleep Tight premiered at Fantastic Fest 2011. After the film was over, I looked around and saw smiles on everyone's faces. It was a hit and was loved by many . . . including me. With its glamorous cinematography and quick dialogue, this film is tightly crafted. In Balagueró's past films we were trapped with nowhere to go, and we find ourselves once again in this situation. He puts us in tight corners and small spaces, and we get a little claustrophobic.
In Sleep Tight we are presented with Cesar, played by the eccentric Luis Tosar who gives a haunting performance in this thriller. Cesar is your kind and lovable concierge at a ritzy apartment complex, and he will do anything to please you. Most of the time Cesar goes unnoticed and overlooked in the lobby; however, Cesar does notice the tenants. He notices every move.
Tosar's Norman Bates-like character feigns the role of reliable apartment assistant while sadistically getting off on pernicious tampering. He does it with such finesse we can't help but to smile. Cesar fixates on Clara, played by the exotically gorgeous Marta Etura, and entangles her in a plan to claim her as his. We usually don't get a villain we fall in love with. I know that sounds odd, but I've heard many agree with that statement. Why would we want to love the "bad guy"? In this instance, it is because Cesar manipulates the film's audience as well he does the lives of the tenants.
The transfer for the Blu-Ray is superb; Dark Sky Films not only did a wonderful job with the picture quality and sound, but they made an excellent decision by picking up Sleep Tight and distributing it in the US.
Sleep Tight was released January 8, 2013 on DVD and Blu-Ray. I also suggest you look up Dark Sky's catalog because this is not the first time they have put out a gem.
Oh, and by the way, if you do root for Cesar, you are not a sick person; I've seen and heard people do the same . . . including me.