Published on January 9th, 2013 in: Current Faves, Music, Music Reviews, Retrovirus, Reviews |
By Julie Finley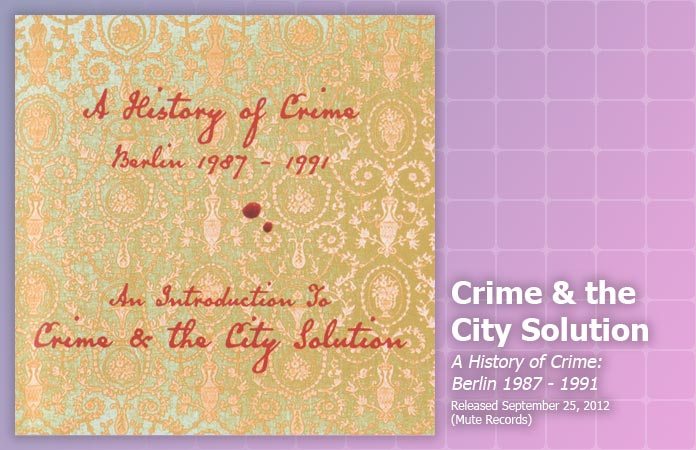 Being a longtime fan of Crime & the City Solution, I was already familiar with all of the tracks on A History of Crime. However, the albums in their discography aren't easy to find, and are more than likely out of print, so if anyone ever had a fleeting interest in this band, but can't get their hands on their albums, this release bridges that gap. A History of Crime is a grand collection of Crime & the City Solution's works, and doesn't disappoint. However, the one major flaw is that it only includes music created between 1987-1991. I mention this because the pre-1987 output contains some of my favorite songs.
Crime has had many changes within its lineup, but one constant is its ringleader, Simon Bonney. Crime's lineup prior to 1987 was probably their most memorable, due to the fact that its membership included Mick Harvey, Rowland S. Howard, his brother Harry Howard, Epic Soundtracks, and Bronwyn Adams. That lineup was built upon the fresh demise of The Birthday Party and Swell Maps, two absolutely incredible acts! This combination of talents were what truly put Crime & the City Solution on the map, even if that map shifted them from Australia to Germany. Unfortunately, that lineup wasn't built to last, but it created yet another equally good act, These Immortal Souls (fronted by Rowland, Harry, Epic, and Genevieve McGuckin).
Bonney's partner in Crime is his wife, Bronwyn Adams, who has been in the majority of the lineups since 1985. The only other person who continued onward after 1987 (up until 1992) with Simon and Bronwyn was the ever-hard-working Mick Harvey (whilst juggling his main duties in Nick Cave & the Bad Seeds). This particular lineup will always be memorable due to their cameo appearance in Wim Wenders's Wings of Desire. I am not sure as to why this chapter of Crime's history was not included in this compilation, so hopefully another volume will be released, documenting such an extraordinary moment in music history.
So what does A History of Crime actually document? This chunk of the band's repertoire includes songs from a rather prolific period of their history, culling tracks from Shine, The Bride Ship, and Paradise Discotheque, plus the inclusion of one of their best songs "The Adversary" (which was from the soundtrack Until the End of the World, another film by Wim Wenders). The majority of the compilation comes from Paradise Discotheque, which came out in 1990.
Paradise Discotheque was MY personal introduction to Crime; I found the disc for $1 back in 1991, and bought it because I thought they had an interesting name. I was pleasantly surprised how fantastic this album was, and still is. However, I need to nitpick: I don't think it was necessary to include "The Last Dictator" parts I-IV. One of them would've sufficed in lieu of a bit more variety from Shine and The Bride Ship. I feel it's not giving the listener anything to seek out by filling in too many blanks from Paradise Discotheque.
All three albums in this compilation are very conceptual in theme, which is a departure from their prior releases. I need to point out the personnel in the group at this phase because they are what constitute the actual band in this collection! At this point, Simon, Bronwyn, and Mick Harvey were the nucleus, whilst Alexander Hacke (Einsturzende Neubauten), Chrislo Haas (Liaisons Dangereuses), and Thomas Stern (Berliner Ring) were the cell membrane, so to speak. This lineup created the majority of music during in the band's tenure—an absolute Australian/German hybrid—and I can understand why the collection focused on this lineup, because it was the most consistent overall . . . but, I still feel like a listener would truly be missing out, not hearing earlier classics like "Six Bells Chime," "Five Stone Walls," "The Kentucky Click," "The Dangling Man," or "One Strip Rider."
What you do hear, however, are all fantastic offerings. My personal favorites on this are: "Keepsake," "Hunter," "The Bride Ship," "Free World," "I Have the Gun," "The Sun Before the Darkness,"
and of course, "The Adversary." A History of Crime is a great collection of songs, by a criminally underrated band, and is definitely worth your time!
A History of Crime—Berlin 1987-1991: An Introduction to Crime & the City Solution was released on September 25, 2012 through Mute Records. You can order the album on Amazon.
American Twilight, a brand new album recorded in Detroit and the band's first studio album since 1990's Paradise Discotheque, will be released on March 25 and can be preordered from Mute Records.
Tour Dates:
18 Feb – Melbourne, AUS @ The Hi Fi
21 Feb – Sydney, AUS @ Hi Fi Bar
24 Feb – Brisbane, AUS @ The Hi Fi