Published on January 8th, 2013 in: Music, New Music Tuesday, New Single, New Video, Video |
By Cait Brennan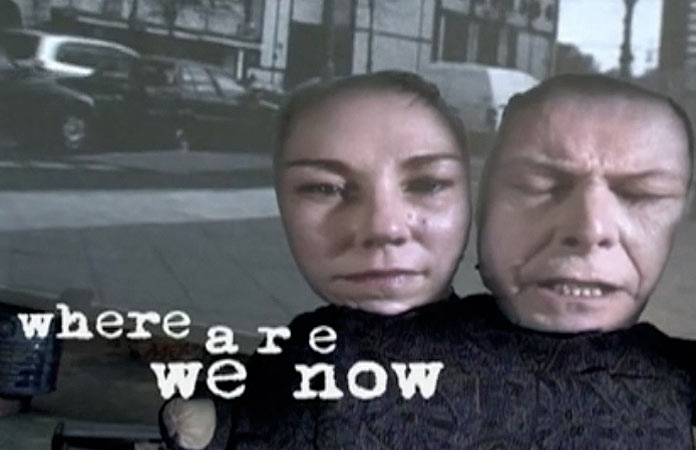 It came like a bolt of lightning in the dead of night: news of a new David Bowie album, his first in a decade, announced with no advance notice in the wee hours of his 66th birthday. The Next Day, Bowie's 30th studio album, produced by Tony Visconti (!), will be released March 8 in Australia, March 11 in most of the rest of the world and March 12th in the US, with a new single, "Where Are We Now?" available on iTunes now.
Watch the full video on Vimeo.
After health issues sidelined Bowie in 2004, fans have been hoping against hope that the singular rock and roll icon would one day return to music, but there was scant evidence it would ever happen. His suitably theatrical return sent social media into a frenzy, putting him atop Twitter's trending topics within minutes. Radio stations around the world scrambled to play the track first, with BBC 6Music earning honors as the World Premiere play, edging BBC Radio 2 by a few short minutes.
"Where Are We Now?" is a meditative ballad of "a man lost in time, walking the dead," recalling in both lyrical geography and atmosphere his Berlin trilogy, coupled with a sound reminiscent of his most recent albums Reality and Heathen. The track is accompanied by a hearteningly weird video filled with expressionist imagery and the Thin White Duke himself transformed into a tiny malformed creature with two heads, one of which is a girl.
Henceforth, Christmas is officially moved to January 8.
The album is available for pre-order via iTunes in both standard and deluxe editions (the latter featuring three bonus tracks). Visit davidbowie.com/the-next-day for the latest.