Published on January 7th, 2013 in: Horror, Movies, Science Fiction |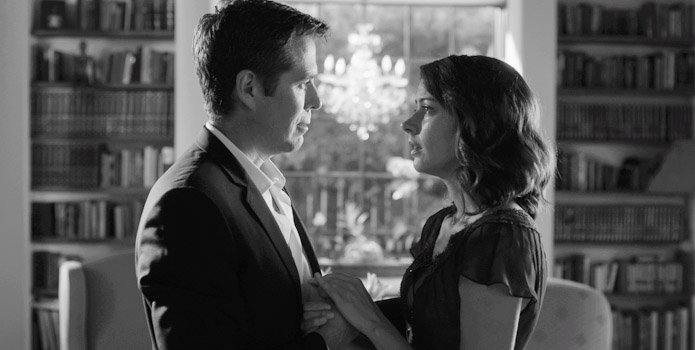 Much Ado About Nothing
So here we are, in 2013! The number thirteen has been considered both lucky and unlucky throughout history and across the world, but looking ahead it seems to be a lucky number for moviegoers. I thought it would be fun to make a list of the thirteen genre films (i.e., sci-fi, fantasy and horror, etc.) that interest me most this year. While not all the movies I want to see are genre films, the list was easy to make.
1. Guillermo del Toro presents: Mama (Jan. 18)
Horror master del Toro's latest production, directed by Andrés Muschietti, tells the story of two orphaned little girls who may not be as alone as they seem. The film's trailer is quite a hook, teasing and building up to the reveal of the titular horror. If the actual movie is half as creepy and atmospheric, it'll be a thrill.
2. Hansel and Gretel: Witch Hunters (Jan. 25)
This one does what it says on the tin. Based on the trailer, it could either be really good or really bad or both, and is likely to be campy fun either way. The involvement of Jeremy Renner is reason enough to see it, in my opinion.
3. Warm Bodies (Feb. 1)
Perhaps it was inevitable that the cultural juggernauts of paranormal romance and zombies would intersect. In this post-apocalyptic action comedy, a zombie boy and a living girl fall for each other, only to find out that love may be able to reverse the zombification process. I'm very curious, only because the film's setup poises it to avoid the obvious gross-out pitfalls. The trailer also shows first-person voice over narration by the zombie, which could be humorous. Based on the novel by Isaac Marion.
4. The Host (Mar. 29)
Based on a sci-fi novel from Twilight author Stephenie Meyer, The Host takes place on an Earth occupied by body-snatching aliens. One of them, Wanderer, ends up sharing a body with Melanie Stryder, whose consciousness does not fade away as expected. Wanderer is drawn into Melanie's search of the people she cares about, and they stumble across a hidden community of humans in the process. I thoroughly enjoyed the book, and lead actress Saoirse Ronan's performance in Hanna, so I'm anticipating the movie.
5. Iron Man 3 (May 3)
While Robert Downey Jr. has committed to the sequel to The Avengers, Iron Man 3 is slated to be his last solo Iron Man movie. This outing finds Tony Stark still deeply in love with Pepper Potts (Gwyneth Paltrow) and pitted against the sinister Mandarin (Ben Kingsley). Between Kingsley's ominous voice over, attacks by an unmanned Iron Man suit, and Tony's Malibu digs crashing into the ocean, the trailer is intense enough to make fans very, very nervous.
6. Star Trek: Into Darkness (May 17)
As with Iron Man 3, the trailer for JJ Abrams's second Star Trek movie seems designed to traumatize fans of its franchise. This time, we're shown erupting volcanoes, various Enterprise crew members in emotional turmoil, and a visual callback to Spock's death in the The Wrath of Khan. It also has Benedict Cumberbatch in full menace mode. HIs character is listed as "John Harrison," but rumors have been flying as to whether he plays an original character or will actually turn out to be a canon character such as Gary Marshall or Khan. IMAX viewers of The Hobbit got a longer glimpse this winter, but not long enough to answer the nail-biting questions that the trailer raises.
7. Much Ado About Nothing (Jun. 7)
This isn't technically a genre film, but it is brought to us by Geek auteur Joss Whedon, who famously filmed his contemporary adaptation of William Shakespeare's comic romance during a twelve-day break from The Avengers. Keeping the project secret until after its completion, the star-studded cast worked at a breakneck pace and used their own clothes as costumes.The film is in black and white, and Whedon's own home serves as the estate where the action takes place. Much Ado premiered at the Toronto International Film Festival last year, but was picked up for 2013 distribution by Lionsgate, who also distributed Whedon's brilliant but delayed The Cabin in The Woods.
8. Oz The Great and Powerful (Jun. 7)
This prequel to the classic story is about how stage magician Oscar Diggs, played by James Franco, journeys to Oz and finds his place there. I find Franco to be an intriguing and multi-talented actor, and the trailer makes it look like he has an interesting take on L. Frank Baum's wizard. The cast also has some stellar actresses, including Mila Kunis, Michelle Williams, and Rachel Weisz.
9. After Earth (Jun. 7)
In a list that's a bit heavy on the post-apocalyptic, I'm including this one for the cast as much as anything. Will Smith and his real-life son Jaden play a father and son, as they did in 2006's The Pursuit of Happyness. In a future where humans have been forced to abandon Earth, two space travellers crash land there, only to find that the fauna and flora have evolved to be incredibly dangerous to humans. No one has better sci-fi credentials than Will Smith, and Jaden has proven to be a promising young actor. The once-lauded, now-maligned M. Night Shyamalan directed and co-wrote, but since I like what I've seen of his work, that's a selling point for me.
10. World War Z (Jun. 21)
I have read and enjoyed World War Z: An Oral History of the Zombie War, the 2007 Max Brooks novel that inspired this film. The framework is a postwar government commission which collects first-hand accounts of the recent zombie apocalypse. Brad Pitt, Bryan Cranston, and Matthew Fox star, and the trailer looks promising.
11. The Wolverine (Jul. 26)
Hugh Jackman has always been one of the best parts of the Marvel Cinema Universe's X-Men franchise, whether in the strong original film or in the much less widely liked X-Men: Last Stand. Unfortunately, X-Men Origins: Wolverine, which could have been so good, was terrible in spite of him. The Wolverine finds Logan in Japan, and promises to explore an interesting part of his story.
12. The Hunger Games: Catching Fire (Nov. 22)
The second film in a series based on Suzanne Collins's Hunger Games trilogy, Catching Fire takes place in a post-apocalyptic US, now called Panem. There, a dictatorial government forces a handful of children to compete to the death every year, to remind its citizens (who don't have it that good) how much worse things could be. The protagonist, Katniss Everdeen, managed to survive the last installment and, contrary to the gamesmasters' wishes, helped Peta, her fellow competitor from District 12, survive as well. This time around, they find themselves used as propaganda tools against rebellions breaking out all over Panem . . . and then in the Games once again, pitted against winners from previous years
13. The Hobbit: The Desolation of Smaug (Dec. 13)
While I enjoyed The Hobbit: An Unexpected Journey, I also expect it to be my least favorite of Peter Jackson's Middle Earth movies. One thing he definitely did right was to tease us with glimpses of the dragon Smaug, who drives the dwarves from their home in the Lonely Mountain but was never shown in full. I cannot wait for the second film, which will focus on Smaug. A beautiful red dragon with the voice of Benedict Cumberbatch? What's not to like?
This list isn't even exhaustive. Other promising-looking films for fans of genre films include Man of Steel; Enders Game (love the book, have issues with Card); Thor: The Dark World; The Lords of Salem; I, Frankenstein (Aaron Eckhart as the Monster!); Beautiful Creatures; and All Superheroes Must Die.
Feel free to discuss in the comments: What genre films coming in 2013 interest you the most?