Published on January 7th, 2013 in: Current Faves, Music |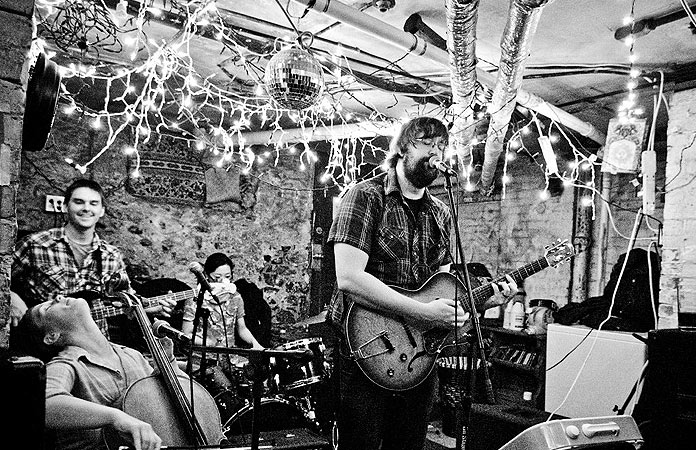 Over the past few years, the Boston music scene has been host to a reinvention of the folk music scene. Bands like Crooked Still, Golden Bloom, and the Michael J. Epstein Memorial Library have adapted aspects of traditional music to a more rock- and indie-inspired sound. Most recently, The Grownup Noise has blended verbose, catchy singalong verses and choruses to ornately orchestrated pop songs and substantial rock rhythms.
The opening riff for "Strawmen," the opening song for the band's 2011 release This Time, With Feeling, sounds like the musical equivalent of a Dagwood sandwich. Rolling, savory percussion wells up amidst tangy cello and a schmear of shimmering keyboard. This combination of aural flavors shouldn't work as well together as they do. Call it love at first taste.
Throughout the album, canny arrangements contrast the band's musical lineup in a manner that keeps the listeners in a kind of musical suspense. On a production level, This Time, With Feeling has a clean, mid-range sound that sometimes emphasizes the band's idiosyncratic, retro qualities, with some fun stereophonic sound effects.
Paul Hansen's songwriting skills and endearingly imperfect vocals anchor The Grownup Noise's musical cornucopia. Hansen writes lushly melodic songs and pairs his abbreviated verses with long, detailed lyrical stretches. Listening to him fit all the words into his verses sounds like watching someone try to write a long, detailed message on the back of a beautiful postcard. Hansen sings in a nasally tenor that suggests James Taylor or Van Dyke Parks. The contrast of his breathy, sometimes pinched-sounding vocals against the movable feast of The Grownup Noise's baroque pop makes for an engaging listen.
Fans of The Grownup Noise's impeccable records won't have long to wait for the next one. The quintet recorded a new album this past fall that should be available soon. In the meantime, they will be engaging in a brief East Coast tour this February. Fans of unusual pop music should check them out. You can listen to tracks on the band's website or Facebook page.
Tour Dates:
February 21: The Middle East (upstairs), Cambridge MA/8:30 p.m.
February 22: The Rock Shop, Brooklyn NY/9 p.m.
February 23: The Basement, Northampton MA/8 p.m.