Published on December 31st, 2012 in: Best Of Lists, Gaming, Movies, Music |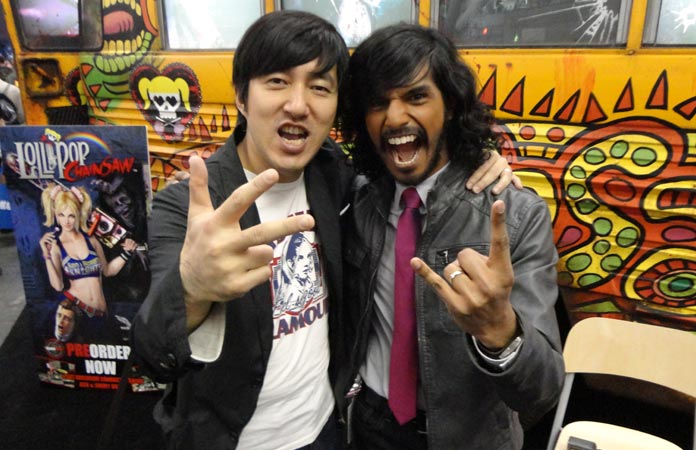 These days it's not uncommon to hear the reply "busy" when asking someone you've not seen for a while, "how are you?" Having attended numerous events throughout the year, I've come to realize just how universal and vague a reply this is, and have therefore stopped using it. While it is nice to relax every now and then, being occupied with work and various other projects keeps the mind healthy and the creativity flowing. Best of all it completely destroys boredom—and looking back at 2012 I can honestly say this has been the most exciting year I've experienced.
Given my "day job" as a host and reporter for EP Daily, I'm in a position to experience more than most people, and I couldn't be more grateful for the opportunities this job has afforded me. These include meeting and interviewing people behind some of my favorite games, TV shows, and movies. Some of my interview highlights this year include Mark Ruffalo and Cobie Smulders for The Avengers, Brad Bird for Mission Impossible: Ghost Protocol, the incomparable Radioman, and super stylish game designer Suda51. I have a personal rule to not "fan out" over people I meet but I disregarded this entirely while interviewing Suda51 and even went so far as to ask for a photo (which turned out amazing as you can see).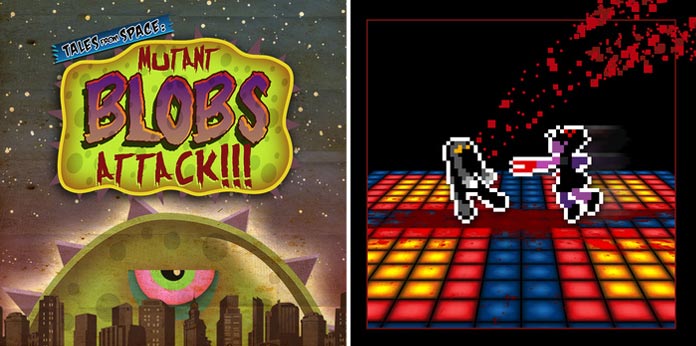 Making music continues to be an obsessive hobby of mine, and I'm happy to have released four albums this year. In January, prior to the launch of the PlayStation Vita, Toronto-based developers Drinkbox Studios announced that I had contributed a song for the end credits of their game Tales From Space: Mutant Blobs Attack! I released the song along with several remixes as the digital download Mutant Blobs Attack! In August, the soundtrack They Bleed Pixels on the Dance Floor was released, followed a few days later by a collaborative mixtape Killah Tape at Nerd Noise Night. This month, as a gesture of gratitude for the success of my musical endeavors I released Music For Headaches as a free download.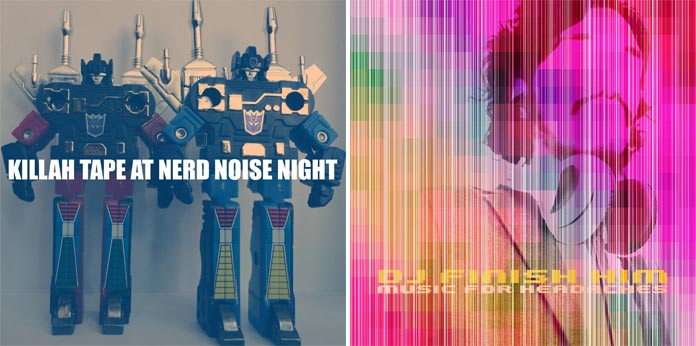 Thankfully I also have several other things to obsess over, namely music, movies, and games. Please note my lists for each are in no specific order as it would be too difficult to choose an absolute favorite for each category.
Favorite Albums
More or Les, Mastication—The title of this album continues in the fine food-themed tradition of More or Les' previous album, Brunch With A Vengeance. But this one's about consumption in general, not just of things we shove into our digestive systems. That said, the album does include two tracks that are delicious recipes in rap form, which I believe is a first for any album, ever. Apart from being an excellent hip-hop album, Mastication had one hell of a release party that included—no lie—actual pizzas being served during the song, "Pizza Party."
Wordburglar, 3rdburglar—Sean Jordan a.k.a. Wordburglar has got to be one of the nicest human beings I've ever met. It's an amazing bonus that he also happens to be one of the most brilliant rappers I've seen. The man knows how to work a crowd with his "aww, shucks"–like charm and verbal prowess (especially evident during his many freestyles). Trust me, when he says he owns words, he means it. 3rdburglar's tracks show us how far his skills have come while the subject matter assures us he's still the 'burg we've come to love. Bonus: the videos for "Rhyme O'Clock" and "Drawings With Words" are super fun.
Coins, Coins—When not producing hip-hop tracks for the likes of More or Les, Wordburglar, and many others, Peter Chapman also scores the TV series Bomb Girls and works on videogame soundtracks. This year he also released a dance/electro/house album that he painstakingly fine-tuned under the name Coins. I'd been looking forward to hearing it for months and when I first downloaded it I listened to the album on repeat for days. Chapman is ridiculously talented. He's also ridiculously crazy for giving this one away for free.
The History of Pan!c, Fight! Fight! Fight!—In late March I received an email from Gerald Roesser, who wanted to share with me a link to his debut effort under the name The History of Pan!c. I'd been familiar with his work before, having enjoyed the music of Johnny Headband. That said, I didn't quite know what to expect from Fight! Fight! Fight!, nor could I have expected that I would like it so damn much. The album is heavy on the synths and features a strong dose of arpeggios and occasionally haunting vocals. And it is all catchy as fuck.
Johnny Headband, Who Cooks For You—Speaking of Johnny Headband, the group released Who Cooks For You earlier this year and I loaded up iTunes to purchase it only to find out later that it's available for free on the group's Bandcamp page. But considering how much I love this album, I'm happy to have given my money to them. The opening track, "Over There" kicks things off with a killer hook and I love the way it scales back and builds up the intensity throughout. My favorite song has got to be, "Hot Button Topic," which is just shy of eight minutes long and is built around one chord.
Electric Six, Absolute Pleasure—I closed out 2011 by seeing Electric Six perform four nights in a row in various cities in Southern Ontario, so the group's first live album brings back fun memories of the shows (even reminds me of some of the behavior of a few strange fans I encountered). Absolute Pleasure features the band rocking out to tracks spanning their long career and eight studio albums with a few slower jams thrown in for good measure. A cover of The Osmonds' "Crazy Horses" is also included, as is a good chuck of Dick Valentine's stage banter. His multiple mentions of wanting an amaretto sour caused me to try this drink for the first time. I think it might be a girly drink but it is delicious.
Evil Cowards, Moving Through Security—Evil Cowards features Dick Valentine teaming up with William Bates, who composes music as part of Fall On Your Sword. The duo's second album sees them going into more bizarre territory while at the same time utilizing heavier orchestration than what is found on their debut album, Covered In Gas. Stylistically there's no mistaking Valentine's distinctively declarative voice, and the electro-heavy album is a nice offset from Electric Six's rockier fare.
Dick Valentine, Destroy The Children—Stepping away from the six piece band and opting for an acoustic guitar, Valentine delivers an album I wasn't sure I liked when I first gave it a listen. Many of the songs here could have easily been incorporated into an Electric Six album which leads me to wonder how he decides which project a song will belong to. It's sufficiently different from the pre-E6 Valentine project The Dirty Shame but no less strange, and no less wonderful.
Redd Kross, Researching The Blues—The best concert I've ever been to was when Redd Kross destroyed Lee's Palace several years ago. After the show I wondered how much longer I'd have to wait to hear something new from them, and with that wonder came another one: what would it even sound like? Answer: it sounds like Redd Kross! I might have been upset that this album is just over a half hour in length, but this half hour is better than most bands' full-hour efforts, so I'm okay with that.
Majeure, Solar Maximum—Part of my fascination with Solar Maximum is that it's an electronic instrumental album and that at times it reminds me of game music. But it also brings me similar feelings to those I get while watching Blade Runner, feelings of visiting an imperfect world transformed and overrun by technology. It's also quite different from a lot of electronic instrumental music I tend to listen to (or even make) in that it hardly features drums.
Favorite Movies
The Dark Knight Rises—Nolan's trilogy is to superhero films what Frank Miller's The Dark Knight Returns was to comic books, and not just because both left me speechless after experiencing them for the first time.
The Avengers—Though the cast is huge and the heroes each have strong personalities, Joss Whedon gave each one his or her moment to shine and managed to establish a new actor as The Hulk as if no other actor had previously played him.
Skyfall—Daniel Craig continues to be my favorite James Bond even though the film gives us a 007 who's been beaten down and not at the top of his game. In many ways, I see thematic correlations between this and The Dark Knight Rises.
The Hobbit—I watch Peter Jackson's Lord of the Rings trilogy each holiday season and getting to see more of Middle-earth, especially in a way I hadn't seen before, was real treat. Also a real treat? Bret McKenzie as an elf. Again!
Picture Day—This was easily the best movie I saw at TIFF this year, and it was completely unexpected. Picture Day offers sincere portrayals of high school life as an outsider with great performances from actors we're not inundated with. As if that wasn't enough, the feeling of attending live indie rock shows in Toronto is somehow captured perfectly.
Prometheus—It's perhaps the most divisive film of the year but I loved it. If you didn't, I don't care. So there.
Frankenweenie—Stop motion is alive and well, as is Sparky, thanks to a young Victor Frankenstein's experiment to bring his beloved pet back to life. This movie balances humor with more serious and sometimes sadder moments. It's amazing how much feeling stop motion characters can evoke.
ParaNorman—Speaking of stop motion and spooky themes, ParaNorman was an excellent surprise this year. Not only does this film include a lot of heart, it also plays with jaded audience expectations and tropes, which I absolutely love.
Seven Psychopaths—You know a movie is completely ridiculous when the kidnapping of gang leader's dog causes everything to turn to shit for our anti-heroes (who are all of course psychopaths). Colin Farrell and Sam Rockwell steal the show and I can't wait to see this one again. I still think it's a shame that the film's previews misrepresented it.
Radioman—This is a documentary about Radioman a.k.a. Craig Castaldo, an actual man who used to be homeless and would show up on set of movies shooting in New York City. He's an instantly likeable person, and he's made it into over a hundred movies as an extra. The documentary features interviews with numerous film stars, including Radioman lookalike/impersonator Robin Williams, who all have the best of things to say about him. Sidenote: interviewing Radioman and director Mary Kerr about the documentary was a personal highlight of my year. Radioman and I even traded buttons!
Favorite Games
Prototype 2—It's a damn shame Radical Entertainment is no more, because their last game proves just how kickass a team they were. Prototype 2 introduced us to a new protagonist, James Heller, who wants to kill the previous game's protagonist, Alex Mercer. It also introduced new and gruesome ways to dispatch enemies and might have the most f-bombs out of any game I've ever played.
Lollipop Chainsaw—Being a fan of Suda51, this was the game I was looking forward to the most this year. Lollipop Chainsaw was one of the most fun solo gaming experiences I've had in a while and the constant banter between Juliet and her boyfriend Nick (who's just a head!) seasoned the game with some truly bizarre humor. Bonus points for the many nods to classic horror flicks. This game is so nice, I bought it twice!
Sleeping Dogs—Based on how much fun it is, it's hard to believe that this game was almost never made. I didn't think of myself as someone who enjoyed sandbox-style games but I couldn't get enough of Sleeping Dogs and I love the balance of police, gang, and community missions the game offers. Also, this game has Pork Bun Guy. How could I not include it? Hello!?
Far Cry 3—Even after deducting points for its blatant overuse of dubstep and a few strange plot oversights, Far Cry 3 is still incredible. It's fun to see our hero, Jason, go from a guy who would poop his pants if a bug landed on him to a stone-cold assassin. Perhaps I made this transformation happen too quickly. It's also fun to see a bunch of bad guys getting killed by a komodo dragon, until of course the dragon finishes them off and comes charging for you.
Waking Mars—If you've got an iPhone, iPod Touch, or iPad, and if you've always wanted to explore an alien world, Waking Mars is likely the next best thing. You play as a scientist with a jetpack exploring deep caverns beneath the Martian surface. Before long, you come across strange forms of live that aren't animal but also not quite plant, and the deeper into the caverns you go, the more dangerous, puzzling, and stranger it gets.
Tales From Space: Mutant Blobs Attack!—Full disclosure: Yes, I did the end credits song for this game, and yes, that is me in one of the cinematics. But even without that, I would have still loved this game. Scientists get their comeuppance for experimenting on alien blob-life when one escapes and eats, well, everything. This is one of the best PlayStation Vita games there is.
Nintendo Land—Looking at this game online and in previews, it doesn't look like much more than a series of tech demos to see what the Wii U is capable of. But getting to play this game with a few friends is the real way to experience it. Sadly I don't get to do that too often, so my time with the multiplayer components of the game is limited. But it's still more fun than it ought to be.
New Super Mario Bros. U—I do wish this game introduced more power-ups for Mario and company, or at least brought back the feather/cape from Super Mario World (a game that this is very much spiritual successor to), and that it also did away with one of the Toad player characters in favor of Peach or even Daisy, but that said there are several reasons why this is one of the best Mario games, ever. Yeah. I fucking said it. EVER. 1) Mario with up to five players at once, either working together or against each other; 2) So many callbacks to previous, also incredible, Mario games; 3) Little details like how the stage music changes to add more instrumentation if you are riding on Yoshi, or carrying a baby Yoshi; 4) It is in HD and beautiful, with a great variety of environment designs.
Retro City Rampage—Brian Provinciano has created a game I would have made if I knew how to make games, and if I was anywhere near as creative as him. This game includes more amazing references to stuff that I like than I would have ever thought of.
They Bleed Pixels—I have been a fan of Spooky Squid Games for several years, which is why at some point a few years ago I approached them and offered to do some music for a future game of theirs. They took me up on the offer with They Bleed Pixels, an oftentimes frustratingly difficult platformer featuring a young girl with demonic claws and the strength to do some severely messed up things to her enemies. Having seen this game go through many iterations, each bringing with it constant upgrades and changes, it's a real thrill to see it out in the wild, and to see people really enjoying it to the point of posting their best stage runs on YouTube and their own fan art around the web.