Published on December 31st, 2012 in: Best Of Lists, Feminism, Movies, Music, TV |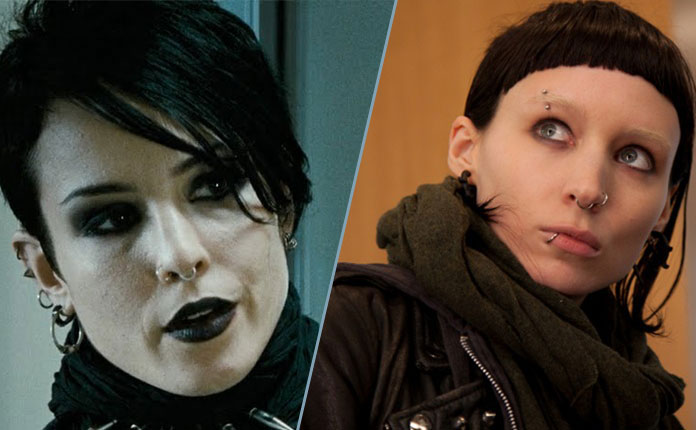 Noomi Rapace and Rooney Mara as Lisbeth Salander
2012 was the year of the woman. Women dominated the best of music, film, and TV.
The most significant figure for me in 2012 was Lisbeth Salander, the Steig Larsson-created character of the Millennium trilogy of novels, who also appears in the original Swedish film series and David Fincher's newest film incarnation. Critics and fans may fight over who was better, Noomi Rapace or Rooney Mara, but both were outstanding at portraying my personal favorite female character of the last couple of decades. (Ms. Rapace had the added distinction of playing the more than worthy successor to Ellen Ripley when she inhabited the role of Dr. Elizabeth Shaw in Ridley Scott's misunderstood but brilliant Prometheus.)
Two of the most memorable films of the year—Chained and American Mary—were both helmed by women. The controversial Jennifer Lynch directed the former, while newcomers Jen and Sylvia Soska wrote and directed the latter, which also starred Katherine Isabelle as the titular anti-heroine and the unforgettable Tristan Risk as Beatress. I can't forget to praise the delightful turns of both Anne Hathaway in The Dark Knight Rises and Scarlett Johansson in The Avengers. In her big screen debut, Laura Caro brought incredible humanity and complexity to her role in Here Comes The Devil, while Alice Lowe provided laughs and horror as Tina in Sightseers.
The biggest surprise for me cinematically was possibly Bridesmaids, written by Kristen Wiig and Annie Mumolo. Unfairly reduced to "the female version of The Hangover," this movie made me laugh and cry harder than any comedy I've ever seen and frequently within the same scene.
Female characters loomed large on TV, too: the fierce women of The Good Wife, Game Of Thrones, and Leslie Knope on Parks and Recreation.
As for musical heroines, there was Lana Del Rey, who evoked adoration and hatred in nearly equal measure with her intoxicating Born To Die album. Another of my favorite releases of the year, Jherek Bischoff's Composed, features five different female singers throughout. Singer/songwriter Jesca Hoop and School of Seven Bells' Alejandra Deheza continued to prove their immense talents by producing the best work of their respective careers.
Feminism is looking and sounding pretty amazing these days. I look forward to 2013!
Best Movies Released In 2012:
1. The Dark Knight Rises (review)
2. Prometheus (review)
3. Skyfall
4. Resolution (review)
5. Citadel (review)
6. Sightseers (review)
7. Here Comes The Devil (review)
8. The Cabin In The Woods
9. The Avengers
10. Beyond The Black Rainbow (review)
More Movies I Loved This Year:
1. The Girl With The Dragon Tattoo (2009, Niels Arden Opley)
2. The Girl With The Dragon Tattoo (2011, David Fincher)
3. Drive (2011)
4. Heartless (2009)
5. Bridesmaids (2011)
6. Monsters (2010)
7. Chained (review)
8. American Mary (review)
9. The Entity (1982) (review)
10. The Violent Kind (2010)
Best Albums Released in 2012:
1. School of Seven Bells, Ghostory (review)
2. Jesca Hoop, The House That Jack Built (review)
3. Lana Del Rey, Born To Die
4. Jherek Bischoff, Composed (review)
5. Sleepies, Weird Wild World (review)
6. Redd Kross, Researching The Blues (review)
7. Ty Segall, Twins (review)
8. Electric Six, Absolute Pleasure
9. Big Black Delta, BBD Tour EP (review)
10. DIIV, Oshin (review)