Published on August 9th, 2011 in: Music, Retrovirus, Video |
By Jim R. Clark
This is Part Three in our series on bizarre videos you may have forgotten about or never seen. Don't forget to check out Parts One and Two.
Yes friends, it's time for another installment of horribly bad music videos that I have combed the web to find for you. Suffering in obscurity no more, these videos will leave you humming some new tunes. In addition to the usual weird New Wave videos I include in these lists, this edition features a Beatles tribute band from India and a special Goth section at the end! Please enjoy!

Savage, "Don't Cry Tonight" (1984)
Romance is not dead! An attractive woman, inexplicably unable to find a date, turns to her Texas Instruments home computer to conjure up for her the perfect man: Savage, the sad-puppy-dog eyed, fedora-wearing heartthrob of every woman's dreams. Eighties clichés abound in this fine video.
Savage, "Only You" (1984)
One video from the legend known as Savage is simply not enough! Thinking back to the shabby treatment of his ex, Savage realizes that he loved her after all and attempts to stop her impending marriage to a Jheri-Curled Mr. Wrong.
MegaMen, "Designed For Living" (1983)
This is a real special one for the Australian music fans out there. Filmed during a children's telethon in Brisbane, of all inappropriate places, these fancy fellows dazzle with their stunning performance. While you're watching, try to count the number of times the drummer drops his sticks.
Mohammed Rafi, "Tumse Hai Dil Ko" (1965)
A blatant rip-off of the original "I Wanna Hold Your Hand," these Indian Beatles amaze with their energy and Tourette's dance steps! Interestingly this is the same singer who sang the song "Jaan Pehechaan Ho" from the beginning of the film Ghost World.
My Mine, "Zorro" (1984)
This band achieved some minor fame a few years ago when one of their songs, "Hypnotic Tango," was re-released in one of those annoying Apple ads. In this video, a yuppie dinner party is hijacked by a band of post-apocalyptic warriors. Little do the robbers realize that soon, one of the yuppies will don a Zorro costume and seek revenge. Overacting at its finest.
SPECIAL GOTH SECTION!
Garden of Tears, "Fool"
This amateur Goth music video is so unbelievably bad it's hysterically funny! Visually, not much happens until 1:22, so if you get bored with this guy looking at you in the dark next to a campfire, please fast-forward the track ahead to where it really gets good! Reminiscent of the Saturday Night Live sketch "Goth Talk." After viewing this inspirational video, I have no doubt you will stop what you're doing right now and head straight for your local suburban shopping mall Hot Topic and purchase an outfit to make your own awesome music video!
"Never anyone will understand!
And dares no hope you know.
Nothing will ever change.
Life will always stays the same."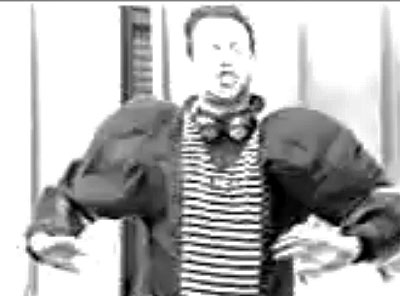 Poésie Noire, "Earth" (1987)
This Belgium band manages to combine the insane mixture of Goth, industrial, and environmentalism. Filmed in an abandoned rail yard, the coordinated, custom-made, puffy-shoulder-pad outfits, spastic gyrations, and silly, dramatic lyrics make this an epic video. At 2:37 the singer repeatedly assaults a train with his head and at the end of the video, he buries himself with a handful of gravel.