Published on May 30th, 2011 in: Canadian Content, Cartoons, Climb Onto The Nearest Star, Issues, Listicles, Movies, Science Fiction, Soundtracks and Scores, Staff Picks, Top Ten Lists, Underground/Cult |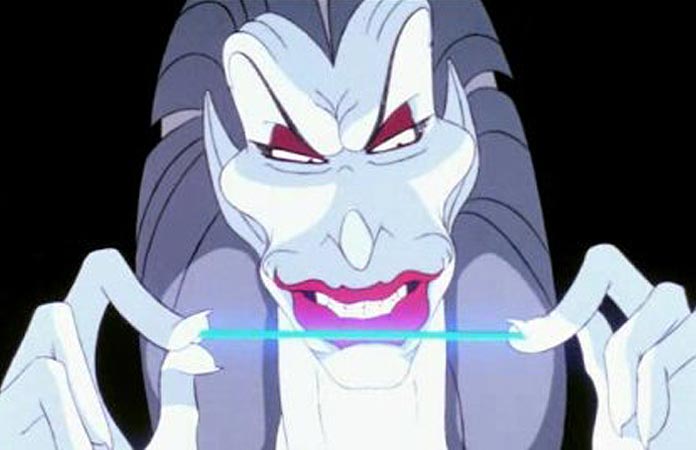 Back in the '80s, USA's Night Flight, a late-night "variety" show, played a mix of weird videos and cult movies on weekends, essential viewing for kids who thrived on that kind of stuff. It was Night Flight that first introduced me to the wonders of Fantastic Planet (La Planète Sauvage), Smithereens, Ladies and Gentlemen…The Fabulous Stains, Urgh! A Music War, and Rock & Rule, an animated, epic sci-fi musical.
I've been watching it for more than 20 years now and Rock & Rule is still one of my all-time favorite movies. Here are ten reasons why.
10. Character design and animation
According to the prologue:
The War was over . . .
The only survivors were street animals: dogs, cats, and rats.
From them, a new race of mutants evolved.
That was a long time ago.
Despite the fact that one blog rudely refers to them as "humans with dog noses," the characters who inhabit the world of Rock & Rule look incredibly cool and believable. It helps that Omar and Angel have groovy, quasi-shag haircuts and that their outfits are a mix of glam-rock and new wave, Gary Numan-style jumpsuits. And then there's Mok, "legendary superrocker." But more on him later.
From the opening sequence with lightning flashes and thunderous clouds, to the murky depths of "Nuke York," to Mok's computer, to the floating cars, Rock & Rule has a very post-apocalyptic, sci-fi look.
9. Cheap Trick
Rock & Rule features three Cheap Trick songs and they're all fantastic. In fact, "Born To Raise Hell" is in my Top Five list of best Cheap Trick songs of all time.
What's even better is that the members of the band (who are never actually named) look an awful lot like the members of Cheap Trick. Omar is sort of a red-haired version of Robin Zander, while Stretch looks a little bit like Rick Nielsen and Dizzy bears more than a passing resemblance to Bun E. Carlos.
Or maybe that's just me.
8. Toad, Sleazy, and Zip: the Schlepper Brothers
Mok has three "bodyguards" who provide a bit of Three Stooges-style comic relief throughout Rock & Rule, even though they're actually far more entertaining (and significant to the plot) than the Three Stooges. There's Toad (a semi-tough guy), Sleazy (the toughest of the bunch), and Zip (who's sweet and dopey).
They wear roller skates and smack each other around a lot.
7. Club 666
The Schlepper brothers have a sister named Cinderella (who also wears roller skates). Not knowing that Angel is kept as Mok's prisoner, she takes her out to a crazy nightclub featuring some rather bizarre characters, and much of the sequence is set to Earth, Wind, and Fire's "Dance Dance Dance." It's certainly more '70s than '80s, and probably won't seem futuristic to modern viewers, but it sure as hell is fun.
6. Mok
And now, back to Mok. According to the filmmakers, his character was originally called "Mok Swagger" until they got a rather sternly worded letter from Mick Jagger's lawyer. But the physical resemblance is undeniable (and this was in 1980 when Mick Jagger was still relatively young-looking). Mok isn't just a rock star; he's also a kind of wizard or magician who craves power, even if it's power from malevolent sources.
He's voiced by Don Francks with a vaguely British, super creepy accent (notice how he seems to caress words in his mouth before spitting them out.) Lou Reed provides the singing voice for a couple of Mok songs: "Triumph" and "His Name Is Mok" (another hilarious and appropriate touch).
5. "His Name Is Mok"
This song is legendary to anyone who is a Rock & Rule fan. The lyrics are amazing ("My name is Mok, thanks a lot, I know you love the thing I've got," and "I'm the power Sodom used on Lot") and the song is so ridiculously catchy that it will stick in your head for hours, days, and even years.
The video for the song appears in the movie, and it's the perfect visual accompaniment. You see Mok performing his evil magic, plus background singers who join in the chorus of his praises.
4. "Send Love Through"
This song is crucial to the plot (no spoilers!) and I'm pretty sure it's the only time Robin Zander and Blondie's Debbie Harry ever did a duet. I actually prefer the Angel solo version of the song, but that's probably because the duet in the movie is muddled a bit by the action of the final sequence. Debbie Harry did a truly godawful version of the song with different lyrics called "Maybe For Sure;" it appeared on Sire's Just Say Da collection in 1990.
The original Angel solo version and the duet version haven't ever been officially released (to my knowledge), but we can dream. And surf the 'net.
3. The Soundtrack
As implied above, I don't think there has ever been an official Rock & Rule soundtrack, which is a real shame. Cheap Trick released their three tracks on their Sex, America, Cheap Trick box set in the '90s, and Iggy's Pop's wonderful "Pain and Suffering" was included on his Zombie Birdhouse album. (I love the idea that Iggy Pop's voice represents a grotesque, otherworldly beast who was brought to life, so to speak, by animating cow brains.)
Lou Reed needs to get on the ball and make good quality versions of "Triumph" and "His Name Is Mok" available to us. (I'm sure this is a top priority for him.)
2. Quotable quotes
Mylar gets a lot of great lines like, "Thanks guys, I too love the sound of cats in boiling water." He also describes Mok as "the only Ohmtown rocker to have a record go gold, platinum, and plutonium in one day!" When Mok kisses Angel's hand, Omar snarks. "Better get some antiseptic on that before it festers."
There's also this exchange:
STRETCH: Mok? Don't let him get us! He'll put a heck on me!
DIZZY: Hex, Stretch, hex.
STRETCH: Ooo, two of them, that's even worse!
Perhaps the greatest line of dialogue comes from Mok himself, in response to Zip's moral conundrum: "Remember Zip, 'evil' spelled backwards is 'live.' And we all want to do that."
1. Uncle Mikey
Everything about Rock & Rule is pretty close to perfect, but its real achievement is that it gets us to care about the characters. Though the Omar/Angel romance is fundamental to the final outcome of the movie, the part that always chokes me up (seriously, I get tears in my eyes) is Zip's love for an animated kids' show (how meta) hosted by "Uncle Mikey."
It's a tiny detail that seems completely unimportant until it's suddenly extremely important. If you've seen Rock & Rule, you know. If you haven't, I don't want to spoil it for you. But it is the bittersweet icing on the cake of the deliciousness that is Rock & Rule.
Rock & Rule fans like myself were overjoyed when Unearthed Films issued a two-disc box set of the movie in 2005, with lots of extra features like commentary tracks, a "making of" documentary, restoration comparisons, and a booklet including an interview with the filmmakers (truly fascinating stuff). It also includes the Canadian version of the movie with some of the dialogue cut from the American version. This version of the movie utilizes the original voice actor for Omar, Greg Salata. Although I grew up knowing and loving the American version, in which Paul Le Mat voices Omar, I am now a convert to the Canadian version.
The 25th Anniversary edition of Rock & Rule was also released on Blu-Ray in November of 2010.